Glimpses of Lake Isabella, Kern River
Sneaking through the southern Sierra Nevada, CA-178 runs east-west along the south fork of the Kern River. Situated about 40 miles north of CA-58, this lesser highway is narrower, slower, climbs slightly higher, and is less traveled.
Normally, we would go home on our typical southern route, CA-58 through Tehachapi. The Mountain Home RV Park in Tehachapi is a favorite overnight spot, and an easy day's travel from there takes us home. But being already so close to there, we elected instead to take a different path and stop by Lake Isabella for a few days. Nothing planned or scheduled, simply an exploratory look along our way. It turned out to be a pretty good decision.
Though CA-178 runs close to the river (south fork), the water is largely out of sight. But the riparian environment is unmistakable — cottonwoods and willows and other greenery mark the course of the river, and it's visible from many vantages.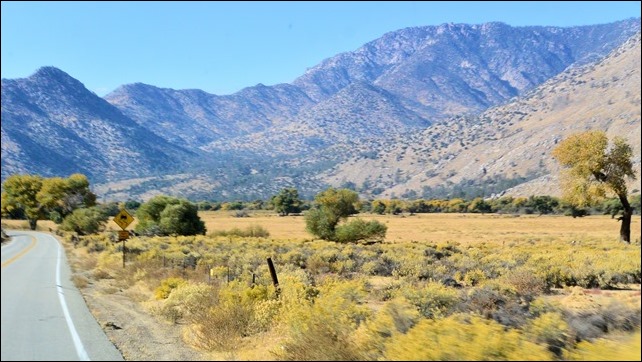 It's always remarkable, in predominantly desert terrain, to stumble on groves of cottonwoods and moisture-loving plants.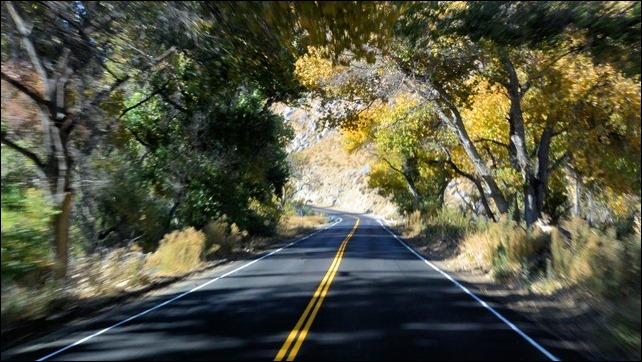 About halfway from CA-14 to Bakersfield lies Lake Isabella, at the juncture of the Upper Kern River, its south fork, and the lower Kern River. It's a curious lake, with a lot of variety and more than a bit of character.
Although fairly populated — there are four distinct townships along its 38 miles of shoreline — it still has large public-access areas that are pretty empty, especially during the late November of our visit.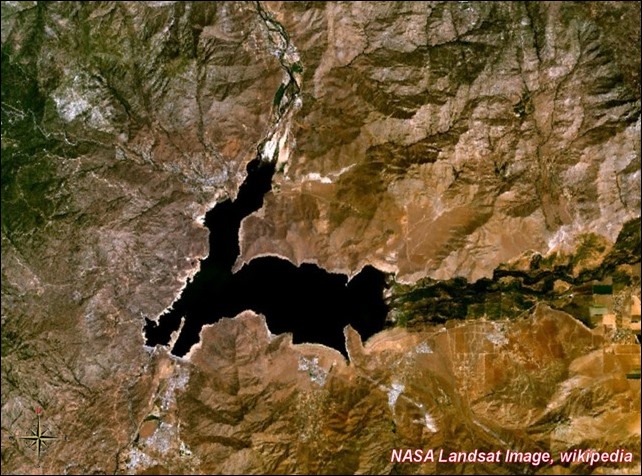 When we first arrived, we explored Hanning Flat, on the north shore. We thought it would be away from the traffic on CA-178 (which it was), and would maybe let us do a little kayaking. But this late in the year, the water was so low that Hanning was pretty much bone-dry. The access roads were also a bit rough and narrow for Howie, and the proliferation of shrubs and cottonwoods made it impossible to see any range of scenery. Cozy, but not what we were looking for. We then tried a little farther west at Stine Cove.
Stine Cove seemed quite barren at first — no trees or even much in the way of shrubs, just rocky, dead-grass shore. It also sported only a single pit toilet in terms of amenities — no fire rings, picnic tables, or even designated camp sites. A designated "dispersed area", it was also free. So we decided to give it a try for a night or two while we scouted out other possibilities.
As the days went by, it really grew on us. We liked the space and solitude, and the lake shore was only a few steps from our parking spot.
Lake Isabella is actually a reservoir, formed by the earth-filled dam at the southwestern end. When the dam was researched in the 1940's, the area was assessed as geologically stable. But by 2006, both the dam, and the ground it was built on, were reevaluated, and the news was all bad.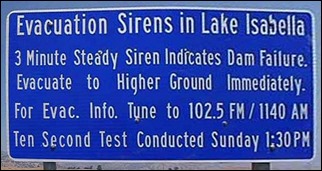 The dam was going to need extensive study and reconstruction, requiring maybe 10-15 years' work. AND, as the dam currently existed, no more than 60% of the design water capacity would be safe. AND — here's the biggie — the dam was built right across an active fault line. This fault, if it slipped in a significant earthquake, would rupture the dam and flood the town of Lake Isabella, the entire southern river canyon, and the lowlands near Bakersfield.
We were kinda hoping that we would NOT get to see that.
---
TOWNSHIPS
The lake is surrounded by four small towns, all of differing character. The very short versions are:
Mountain Mesa — a quick stop
Kernville — cozy and touristy
Wofford Heights — more to the high-end
Lake Isabella (town) — highway burg
Mountain Mesa
The smallest member of the area's population from the highway it appears like many whistle-stops in our travels. We didn't explore it much, and took no pictures. There may be more to offer, but the biggest feature appeared to be a superb hardware/auto-parts store.
Kernville
This is the tourist center, with restaurants, coffee shops, water-sports shops, and the like. The road up into the Sierra goes out of Kernville via the tiny Sierra Gateway community. The area airport (L05) is nearby, and brought back memories from my private-flying days.
North of "town center" is a cozy collection of home sites, mostly well tended and trim. Some of them abut the river bank, but we couldn't see from their back yards. I'll bet it's a cool view. They range from the clean and unpretentious – – –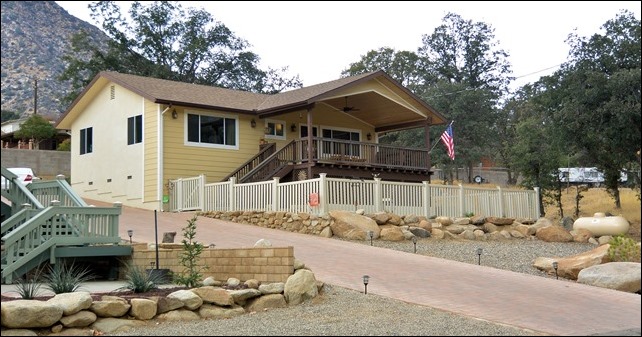 – – – to more striking, estate-style homesteads like this unique example (south of town).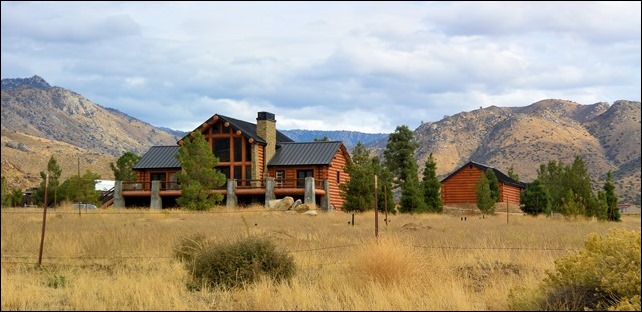 And headed north away from town along the highway, the riverbank hillside is dotted with home sites, some quite enticing. Kernville real estate is not cheap, for such a remote town; pricing runs from the low $200's for a 2/1, up to an significant $1.8M for an 11,000sqft mansion on a hill (not the one in the picture).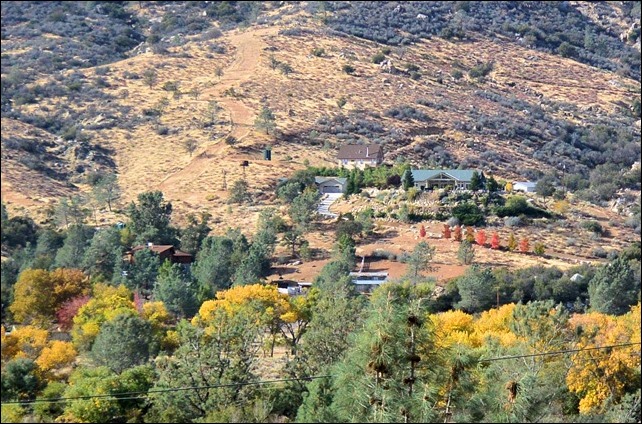 We loved eating at the Kern River Brewing Company, a real casual affair with great food and service.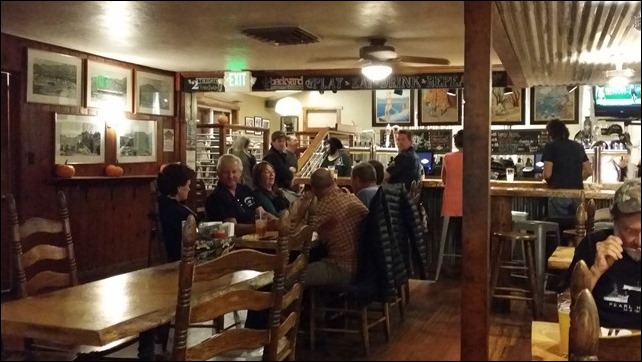 Wofford Heights
From the highway, Wofford Heights is not that impressive; but getting back up into the hills reveals a broad variety of small homes and larger ranches, not to mention some long-distance views from some properties. But (according to Zillow), the river-side spots trump the valley views; Wofford Heights properties are priced well under their comparable sister home sites in Kernville.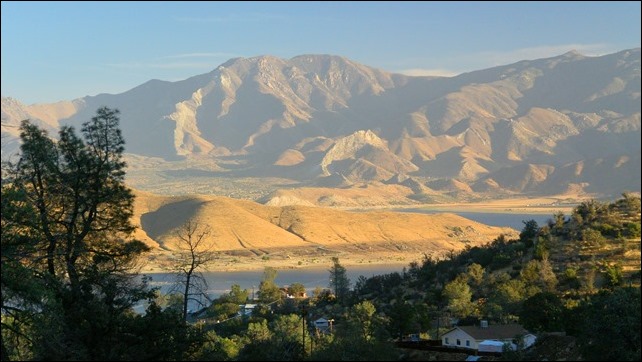 Lake Isabella (town)
This town, and its neighbor Bodfish, are somewhat unremarkable, at least the few blocks we visited. Not striking, not ugly, not poor, not rag-tag — just sort of plain.
The same is not true for the residents who are generally friendly and amiable. Karin discovered a truly excellent hair stylist, as good or better than any she's ever had in the Bay Area. And I got some outstanding help with a troublesome engine error-code on Ralph, from a guy at the local Napa store. As always, the individuals we meet are wonderful wherever we go — we always meet exceptional people, even in unexceptional places.
---
THE RIVERS
As mentioned previously, we came in along the South Fork of the Kern River; since the highway is not close to the river, it is seen as a distant band of green while approaching the lake.
As to the Upper Kern River, a while back, we spent some time camping on that river, and you can see that post HERE. We didn't do much exploring of the same area this time (although we did drive past it to the redwoods, see below).
The Upper Kern is definitely the largest flow into the lake, and even in this driest part of the year there is still quite a bit of water going by.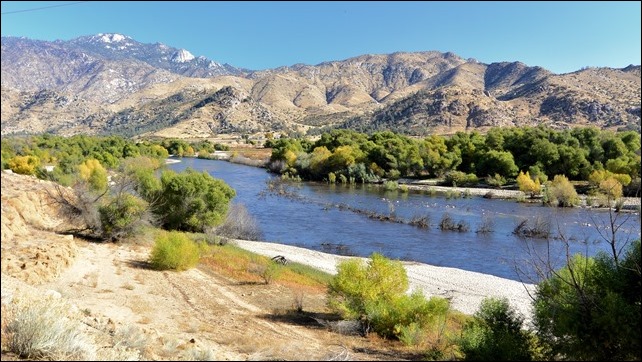 In the Springtime runoff period (we weren't there for it), that water flow becomes massive enough to do some serious damage. This is a campground access road near Wofford Heights, completely ruined by the river overflowing the River's banks.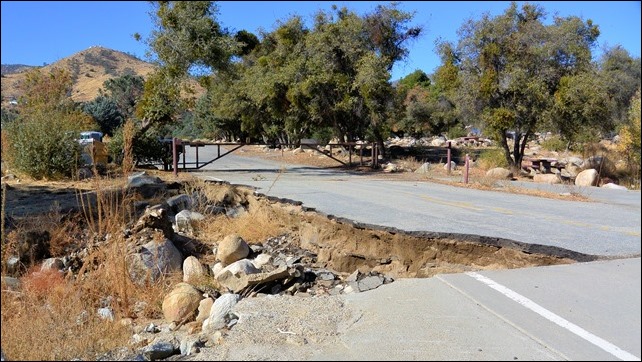 We took some time in Ralph and also explored down on the Lower Kern River. Even though we'd be leaving the area along that route, it's desperately difficult to stop the long-and-heavy Howie/Ralph juggernaut, especially on narrow skinny mountain roads. Ralph is rugged and nimble and makes it easy, so that's what we did for a half-day.
Initially, upon leaving the lake area, CA-178 is a freeway, with only fleeting glances at the River. A few miles south, it turns to highway, and then about 12 miles toward Bakersfield, CA-178 becomes a narrow, twisty road that runs within 50 yards of the River for more than 6 miles. Fortunately, there are many, many little turnouts where gawkers (like us) can stop, walk, and snap pictures.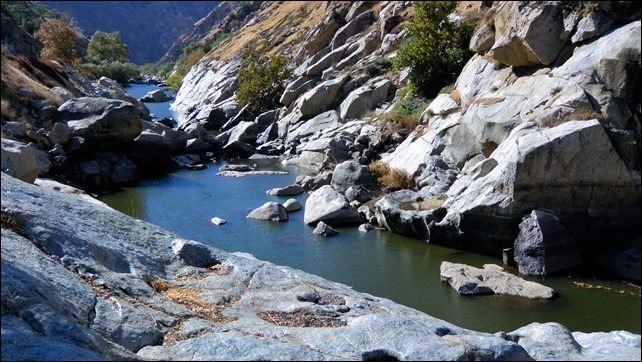 Also, from the town area and down parallel to the highway until just before CA-178 snuggles up to the River, Kern Canyon Road twists and weaves its way along the south side of the River. Having driven both roads, I'd say you wouldn't want to miss either one. The highway will get you through in a hurry, but still with some options for sightseeing. The canyon road provides access to all the rafting put-ins and campgrounds, and is a gorgeous, quiet, slow ride along the river canyon. Highly recommended.
Honestly, while the Lake has its obvious appeal, the Lower Kern River should be a must-see for anyone visiting the area; I consider it a high spot of the trip, with its beautiful rocky riverbanks and of course the rich, flowing waters of the Kern.
---
TRAIL of 100 GIANTS
Sneaking inconspicuously north out of Kernville is M99, Mountain Highway 99 (by no means to be confused with SR-99, the high-speed, bone-rattling freeway in the eastern central valley). M99 is an excellent scenic drive in itself, following the Upper Kern River and affording great views of the water-washed rocks and boulders along the riverbed.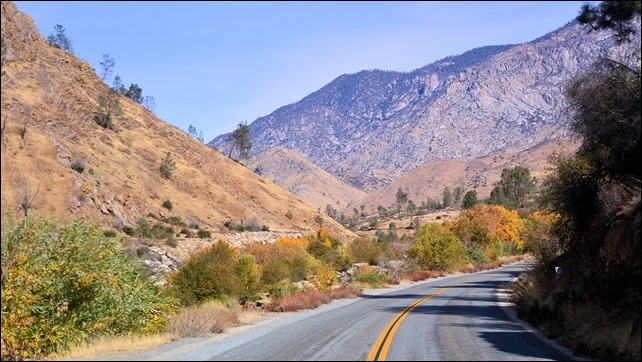 There are at least a dozen or more campgrounds, picnic areas, and fishing locations scattered for miles along the lower stretch of M99. It obviously gets pretty crowded in-season — but that's not our favorite time of year to travel. When we are roaming around in shoulder season (like this trip in November), we can pretty much have our pick of any site we choose.
But as M99 continues, it also leads up into the Sequoia National Forest, climbing above 6000′ and weaving among the tall evergreens. It leaves the Kern River and follows South Fork Creek into the higher terrain.
A left on M50 takes us toward the big Sequoia redwoods. Passing Johnsondale (pretty much closed up for the winter), I stopped to snap a photo of the huge RV city there. We're not sure if they live there year-round, or just store them for the winter. While I was looking out over the sea of white boxes, a couple of big mule deer wandered past — see them at the lower-left-corner?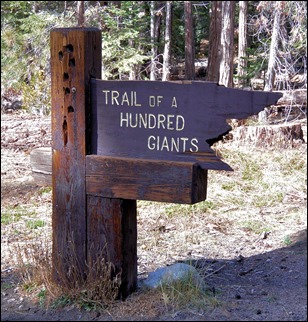 After three highways, lovely winding mountain roads really, about 35 miles north of Kernville, we stopped to visit the Trail of 100 Giants.
And no, we didn't count all hundred of them, but yes, there were a LOT of very big redwood trees in that grove.
These trees are literally thousands of years old, almost impossible to comprehend. The big ones were seedlings when Jesus was alive. Does that help understanding? I don't know.
Ponderosa pines, big, sturdy trees with trunks 3 feet in diameter, are 300 years old. They are to these giants like kindergartners are to their great-grandparents.
Standing near a monstrous base, it's easy to get the feeling of something odd, almost other-worldly. In most of our experiences, nothing natural grows this big. Space aliens?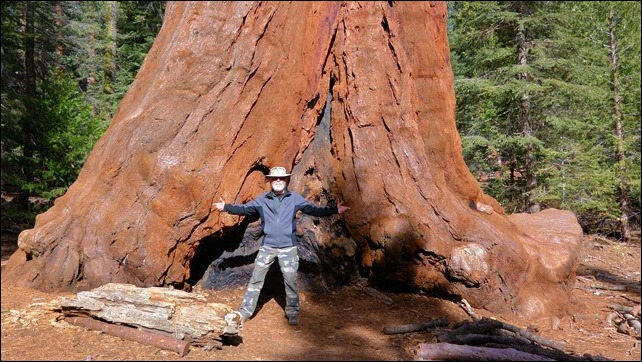 Here's a shot that will stretch your mind, and your screen. The first left-horizontal branch on the right-hand tree is about three feet in diameter — same size as a mature, full-grown pine tree.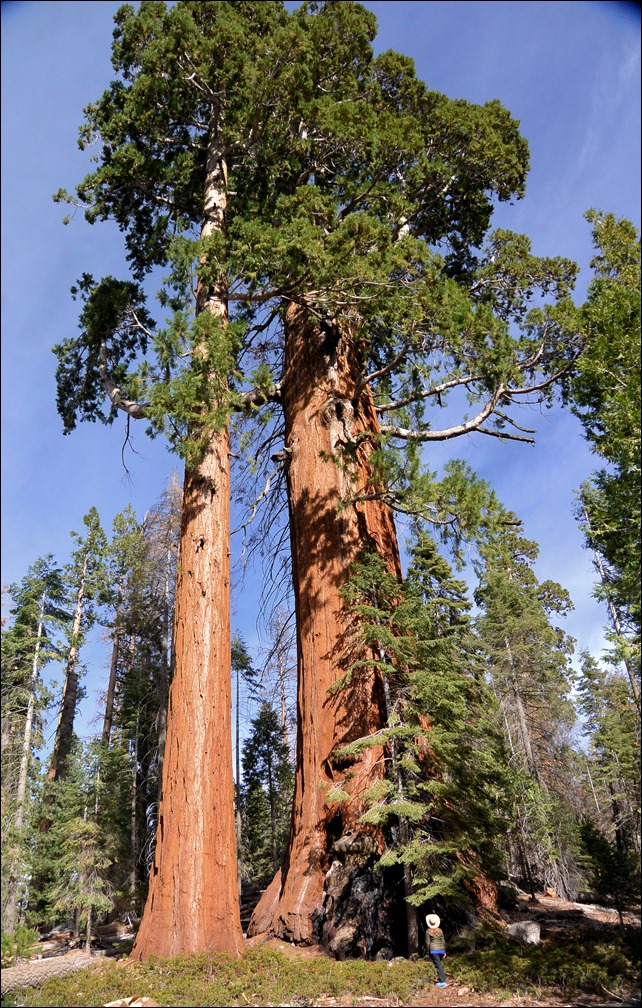 But not even these multi-millennial Giants live forever. Whether the one below died a "natural" death, or was simply toppled by fierce winds, we don't know. This is the bottom side view of the root base. From my perspective, massive though it is, it doesn't look like a great engineering solution to hold up that enormous body of tree. This one was actually the base to a twin pair (two giant trunks) — and perhaps that extra mass contributed to its demise.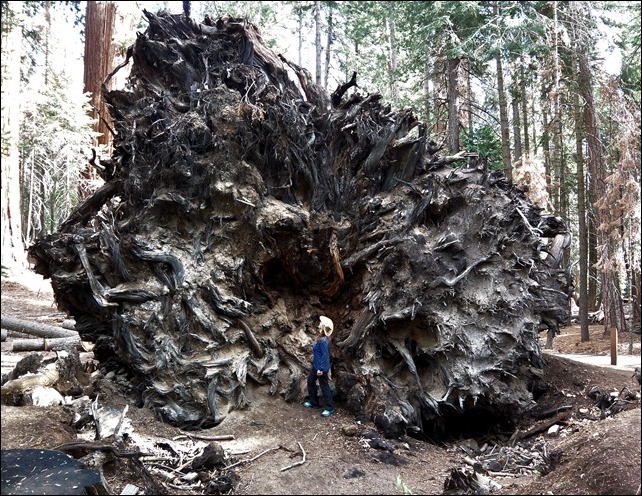 The "fallen ones" are no less impressive lying down. This broken, slowly weathering trunk still rises to more than ten feet above the forest floor. The knot on the side (center of picture) is about three feet across.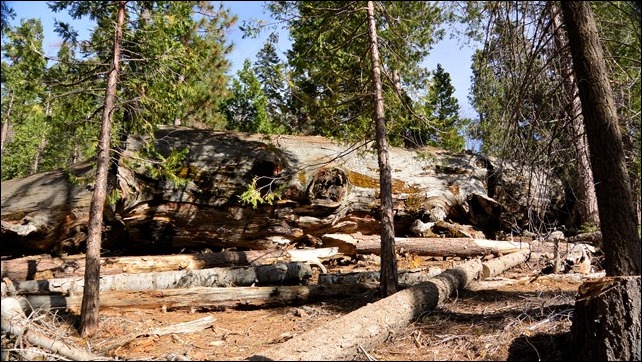 Many of these old warriors have multiple scars of life's battles, from burns to lost bark to broken branches and tops. This one managed to lose some underbelly along the way. The arches are about five feet high.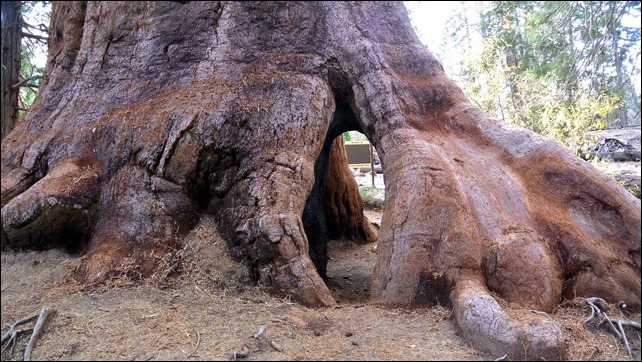 As always when seeing the impressive presence of Mother Nature, we left the redwoods with a sense of awe and humility. It was a pleasant and relaxing ride back down the mountain and the river canyon. Descending from the Sequoias into Kern River Valley, M99 snaked along the hillsides. A few shoulder-season campers were enjoying the Fall colors along the river drainage.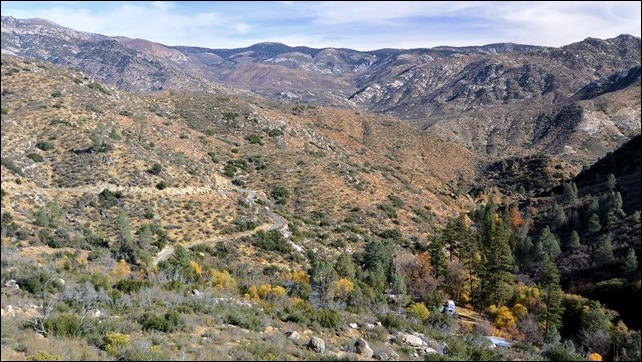 Farther along the way, we got a nice little good-bye present from M99. A huge rock face was dripping a hundred-yard-long cascade of runoff, and it sponsored many-colored algae growths. In the afternoon sun, it was a beautiful multi-hued display — all right at the edge of the roadway, no hiking required.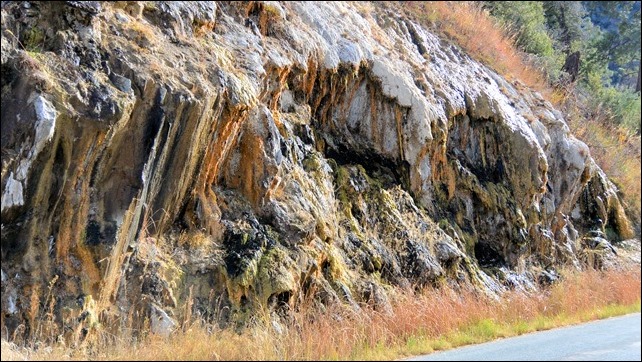 Back at camp for our final evening, I trotted out my tripod and trusty Nikon V2 to see what I could "catch".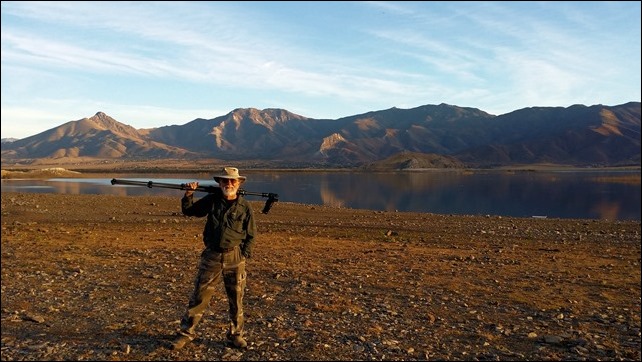 The local ducks were mostly Western Grebes, a snappy-looking diving duck that looks a little bit like it's wearing a tuxedo. But even with my big lens, they were far away and I wasn't having much luck getting close-ups. Just "mood shots" like this one.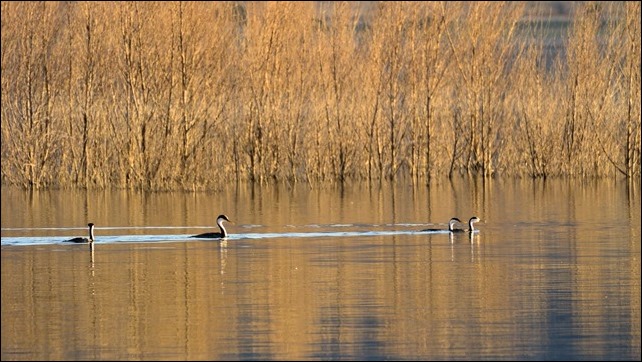 As I was snapping away at the distant Grebes, the huge lake trout were constantly jumping, gulping down the evening insects. I knew better than to try to time my shots to these totally unpredictable events — but lo and behold, one of the beasts splashed into the frame at just exactly the right moment. I didn't actually see this happen, 'cause he jumped just as I clicked the shutter. I wondered if 'that splash' was a fish, and looked at the playback. DANG! One really lucky frame out of 40-50 stills. Couldn't do it again in 100 years.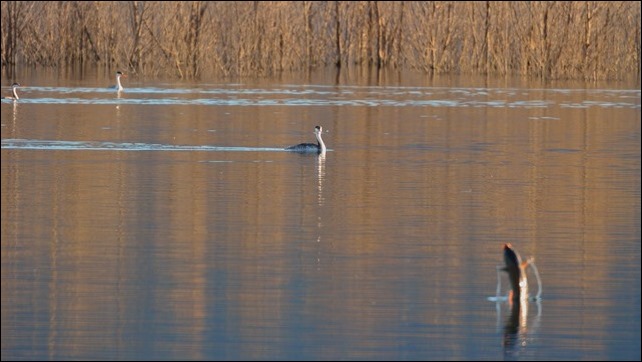 Sunsets are easier to photograph, and need lots less timing and luck than jumping fish. A little cloud cover and clear air are all that are needed.  Our balmy daytime temps of 65F were plummeting quickly after the sun went away.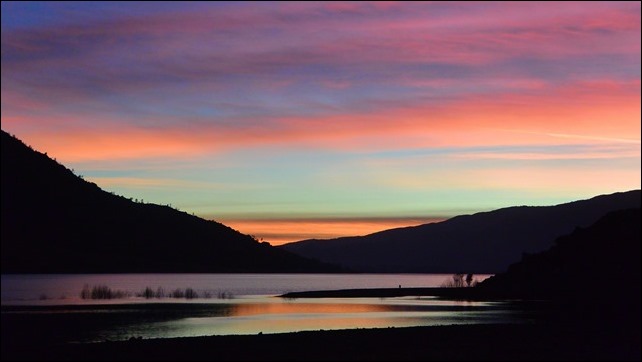 After that last shot, I packed up the tripod and Nikon and hid myself in Howie's cozy interior. Ahhhhh. Beauty AND comfort, what can I say.
As with so many of our travel experiences and joys, this un-planned, un-scheduled stay surprised us, gave us several pleasant memories, and put yet another lovely spot on our list of favored camp sites.
---
STILL CURIOUS?
Lake Isabella (population center) wiki
General Info on Kern River Valley
---