US395 and Death Valley Road
US395 Old and New
About ten miles south of our camp near Big Pine, some of the original US395 can still be seen. There is even a still-usable part coming away from the existing highway, off of Aberdeen Road. It's now dirt-only, but well graded (in places) and useful for the locals.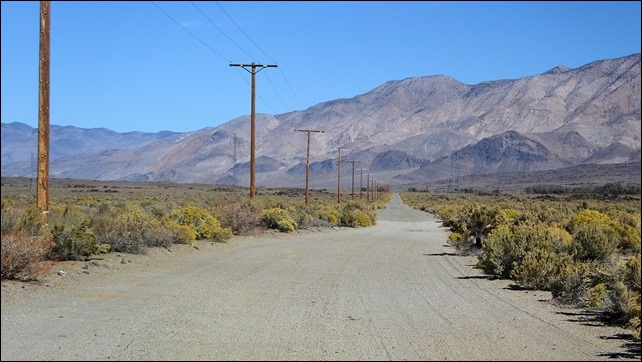 But in one place, the road was cut by a fence, then gated, then cattle-guarded, then washed out and finally filled in. More of the old pavement is just behind the camera. There are probably more spots like this one.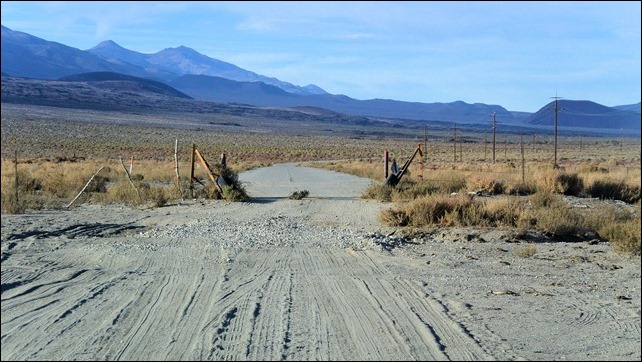 Much more interesting is this small fragment of the very first, 10.35-mile concrete, one-lane road that eventually grew into the long artery of today. This was built in 1916, and only a few scraps remain today. In this photo, the current four-lane highway is in the background, and the remnant goes only for a few hundred yards. With the limited finances of the day, the "road" was only eight feet wide, and vehicles either used pullouts, or rode with their right-side tires in the brush, in order to pass each other. Newspaper wags of the time snarked that it was a "misplaced sidewalk". But it was a real beginning, and the road grew and lengthened; it was officially completed in 1926, although of course it has undergone continuous changes over the years.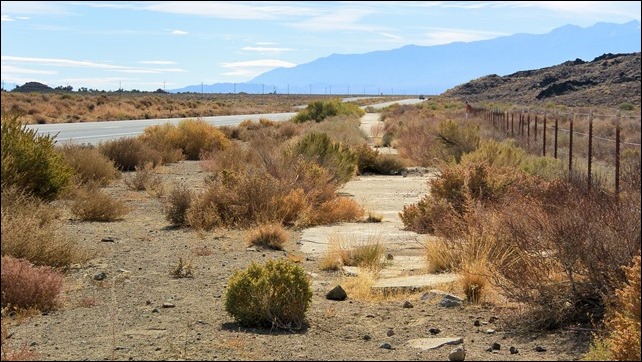 Of course, there is a whole lot more to US395; it's THE major north/south artery for eastern California, and significant in Oregon, and Washington as well. This is just a tiny little scrap of it, but nonetheless an interesting one.
---
WATER
Heading north on US395 from camp, we turned off on CA-168. The Owens River is nearby, and its presence below the flat terrain is betrayed by the green growth along its banks.

In fact, out in the desert, if there is ever any water anywhere, even a slight seep with no visible moisture, the greenery will always give it away. In the case of the Owens River, its track down through the valley can easily be seen from any point of prominence.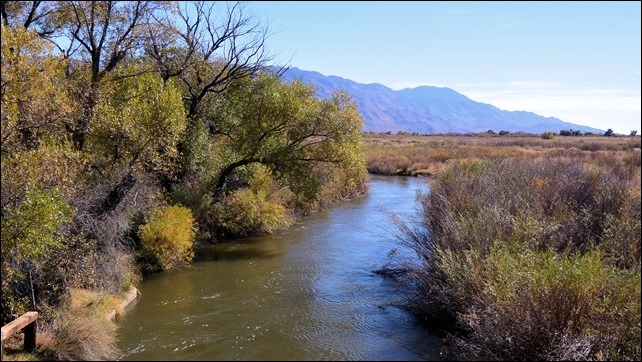 And speaking of water, guess who owns it all? Yup, Los Angeles. Over 250 miles and several counties away, Los Angeles' unquenchable thirst reaches far into the hinterlands. On our last trip to this area, we had a chat with a DWP employee (Dept of Water and Power), out checking creek flows and water levels. This time, we're seeing dozens of these signs all over the drainages coming down from the Sierra. It's rather a mixed blessing: LA takes a majority of the water, but in do doing has assumed an aggressive husbandry of the water rights and water management. I haven't spoken to any local farmers/ranchers about this; I'll bet they have a few words about it. Also see the link at the end of this post.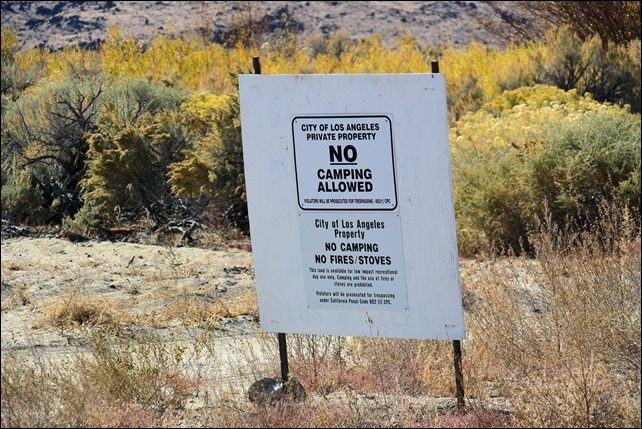 ---
Death Valley Road
Only a few miles out of Big Pine on CA-168, Death Valley Road forks off to the southeast.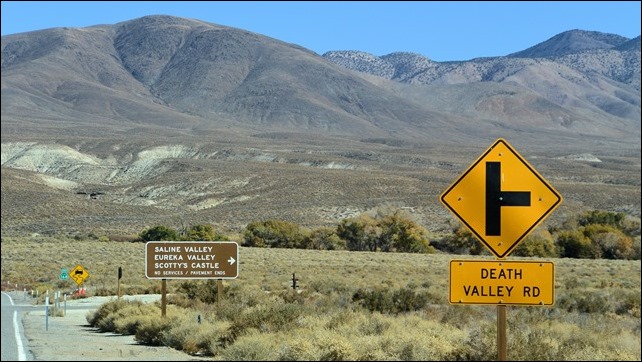 We were puzzled by the "closed" flag on Scotty's Castle. Is the Castle closed, or the road to it? And since Scotty's is on the way to Furnace Creek, then…..  ?? This is part of the fun of back-country exploration. It's also why you try never to use more than half your gas — you just might have to come all the back the way you went out.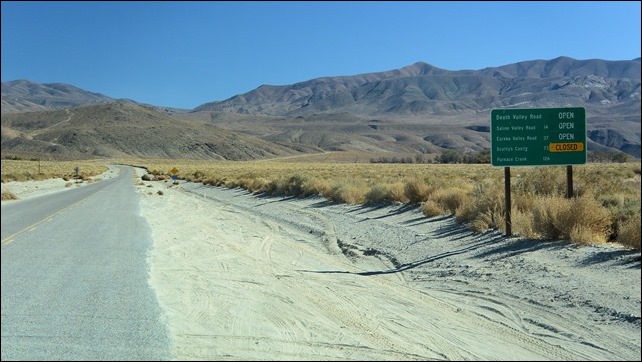 Although there are definitely services at Furnace Creek (if you can get there), we have absolutely run into these "last chance" signs which were horribly wrong. One of them was out in southern Nevada, which warned of a 140-mile gap that actually turned into almost 200, due to a closed gas station in the middle of nowhere, NV. But that is another story.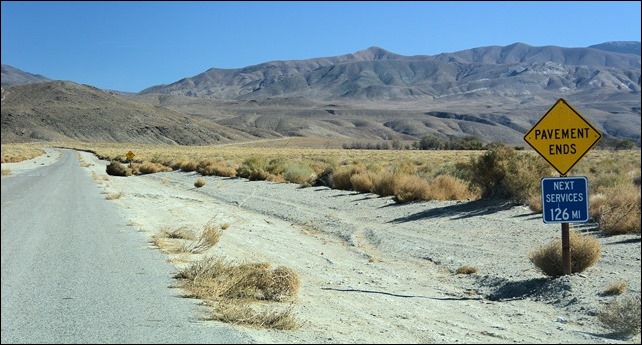 More signage warned of only 26 miles of pavement — we found that it actually turned to dirt about 30 miles in. The pavement was surprisingly sound for being so old and sun-baked. We've seen far worse, and younger, roads, such as those in Mojave Preserve — some of which are simply artfully-connected potholes. This road was comparatively delightful.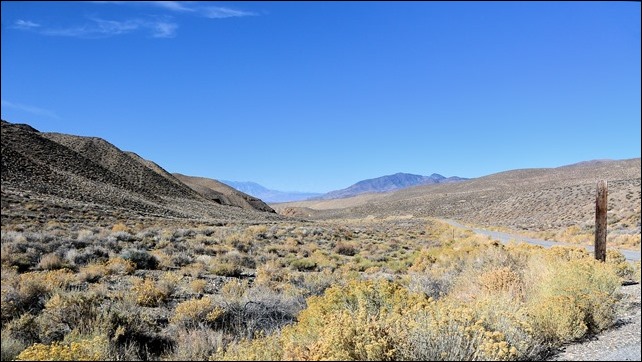 Is it a road sign? An art form? Zoom in, you can actually read some of it.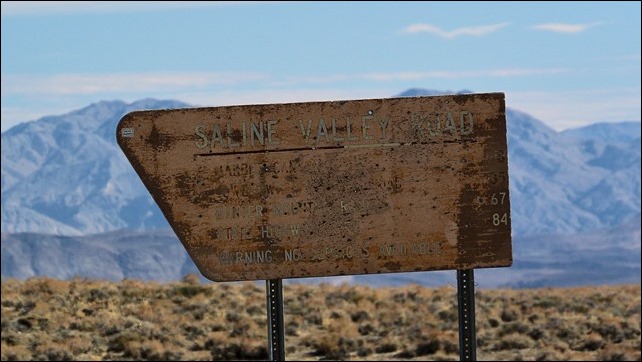 This one is definitely art work.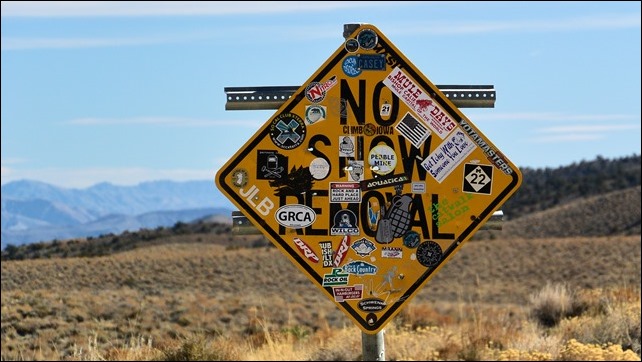 Even on a good road, diving deep into the back country is always a special feeling. Part thrill, part peace, part scare. A potpourri of emotions and reactions.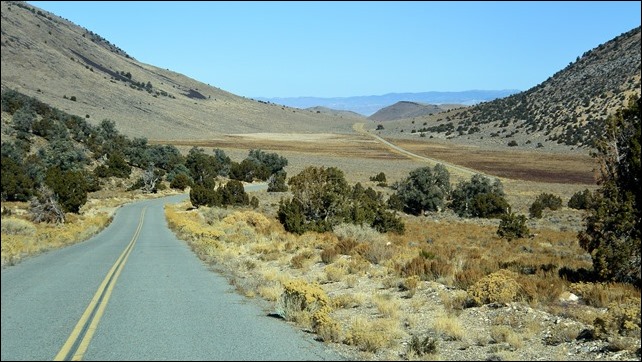 Near the end of the pavement, in Eureka Valley, we stopped and had lunch. There was no shoulder, so we just put our chairs in the right lane and sat and enjoyed the scenery. Those are the Eureka Dunes, about 10 miles away. After about a half-hour, a pickup came from the other direction, waved at us and drove by. That was all the traffic we saw for several hours.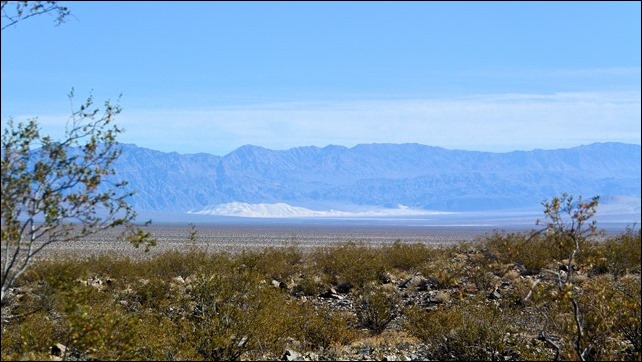 We were emotionally ready for the transition from pavement to dirt. Slow down, bumpitty bump, shake rattle and roll etc. Hah! The whole stretch across the valley had just been freshly graded, and it was a dirt super-highway. We kicked old Ralph up to 50-60mph or so and just rocketed across the landscape. Plume of dust like a Cape Canaveral launch behind us, couldn't see a thing.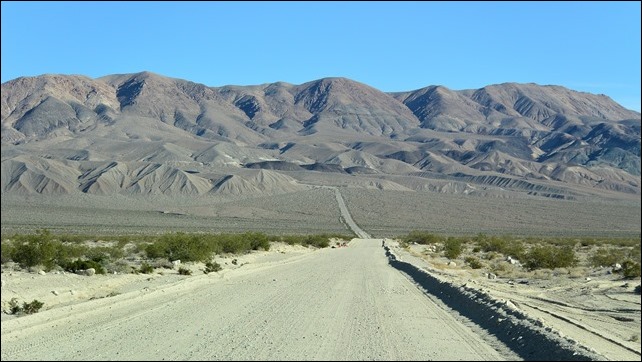 And on the steep climb at the other side of the valley, pavement again!! It was turning into a surreally mild "off-road" day, but we weren't complaining a bit.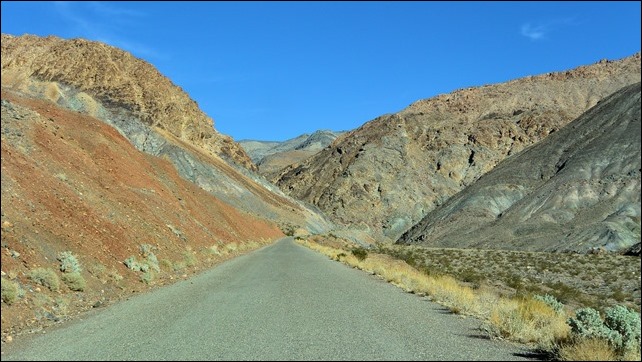 As with many of the smaller roads in eastern California and Nevada, these were generally built for access to mines. Some of the mines are barely visible, like this small shaft entrance.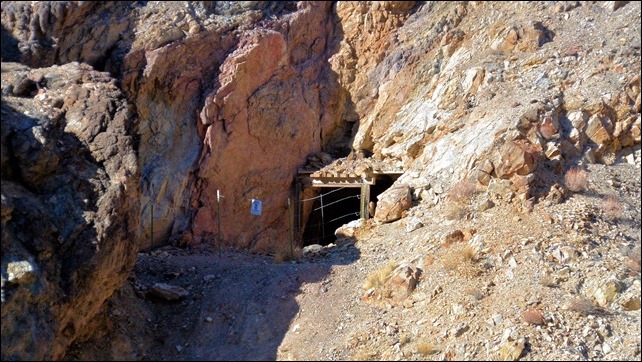 And some can be seen from a long ways off, like this sulphur quarry.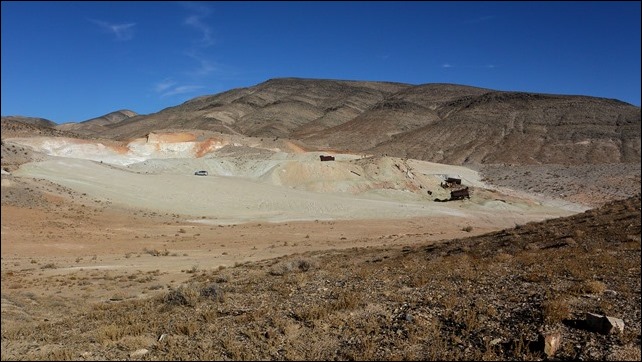 After the paved climb into the hills, the road turned into more like what we are used to. Rambling, rocky, rutted, and rough. And LONG, with still 25 miles to get to a return highway.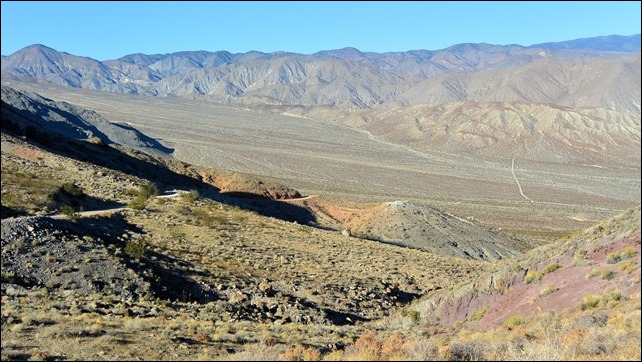 At this point, none of our maps agreed with each other. All of three sources showed different roads available, some with different names. The only point of common agreement was Crankshaft Crossing (which is what the sign says).
We wanted, at this junction, to turn AWAY from Death Valley; it was still farther than daylight would allow, not to mention the return. After all, this was supposed to be a day-trip, not an over-nighter. So we figured out (sort of) which road we wanted to follow, and took off. We made one false foray from here, but quickly backtracked onto the proper course, back to the northeast to intersect NV-266.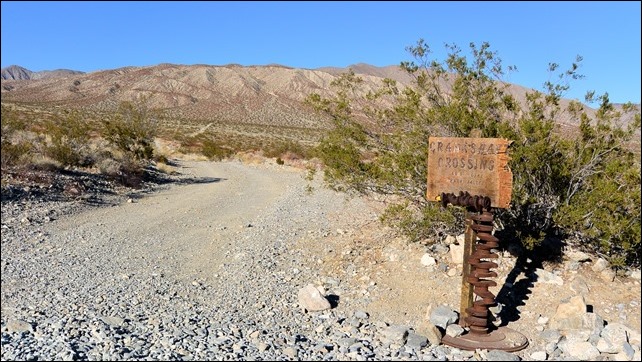 So I can't speak to the remainder of Death Valley Road; it may have continued as the pretty good dirt road we were on, or it may have degraded, as such roads do, in any number of ways or places. Some time we'll go and find out. Meanwhile, the road we were traveling (northeast bound from Crankshaft Crossing) got WAY rougher and slower.
The terrain is gorgeous, mesmerizing, and vast. It's pretty easy to get lost, but we stay careful and sensible, and it allows us to enjoy the unique beauty around us. The rough road slowed us down, and we literally basked in the wonderful scenery. (BTW — Those curious formations are not man-made; they are natural erosions of the stepped plateaus, one in the foreground and another in the distance.)
We are all entitled to wonder, as we explore these huge expanses of landscape: Why are all these roads criss-crossing the desert? What in this dry, empty terrain would motivate a person, company, or government to grade out hundreds of miles of such tracks? Simple answer: gold, silver, and other minerals — MINING. Prospectors were everywhere in the 1800's, and when paydirt was struck, roads and towns were built to extract the wealth. When the wealth was exhausted, the infrastructure was usually abandoned, and left to weather away as it might.
Here's a typical placard about a typical township. It was too dark for photos when we passed through, but the old stamp mill and building structures were still quite obvious. Here's a link to a good photo collection of the old town: http://eofp.net/palmetto.html.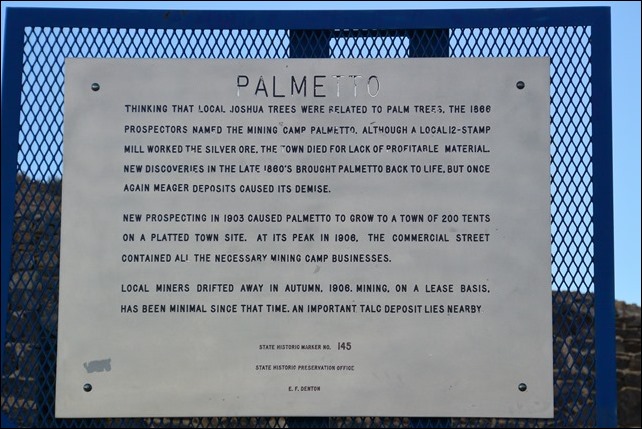 We had gotten over 70 miles away from camp, on combinations of paved, dirt, sandy and rocky back-country roads. But it had become late and dark early in the November day, so we opted for more high-speed travel on our return. We picked up NV-266 and connected to CA-168 westbound. By 4:30, we barely caught this photo of Deep Springs Valley, along CA-168 on the way back to Big Pine, in the waning light. Only 30 more miles to go.
Being able to spend the day touring the vastness of the wilds — this is always something we deeply cherish. And this day, with the excellent roads and clear views of so much different terrain, was an extra-special treat. Only a few hundred more miles of trails to explore now — well, that is, in the Whites and Inyo Mountains anyway <grin>.
---
STILL CURIOUS?
https://en.wikipedia.org/wiki/U.S._Route_395
Water, LA, and the Owens Valley
---