Southern Utah is like nowhere else in the U.S., maybe nowhere else on Earth (caveat: I haven't yet been everywhere on Earth, this is just a guess). We headed east to spend a week there. We didn't want to try to "see it all" — just a sampling of the Grand Staircase, and a little exploration around Lake Powell.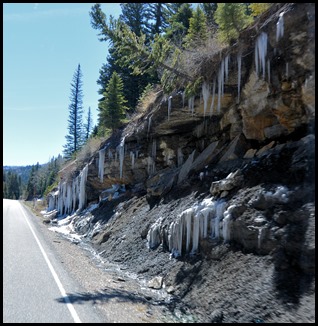 Leaving Cedar City, great weather welcomed us to the big climb past Cedar Breaks, and over UT14.
We topped the 10,000 foot pass at only 42F, but the snow and icicles were everywhere to remind us how cold it can get in this region.
As we traversed the pass, the high, thin-oxygen road was still humbled by lofty bluffs of red sandstone. It was a gorgeous contrast.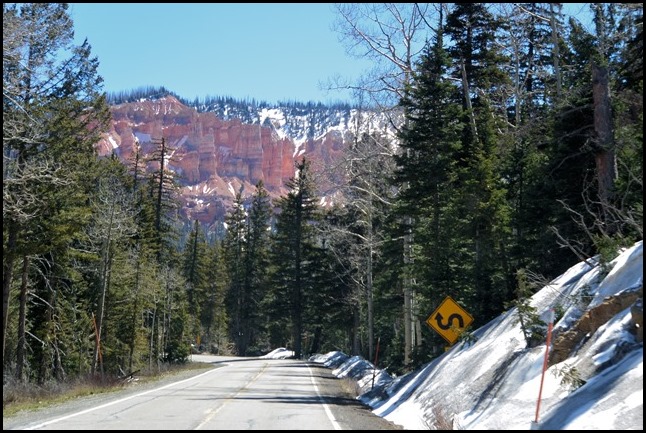 Along the highway, some of the structures were a bit more creative than attractive. Somehow, domes don't seem to go along with trees. Or maybe that's just me.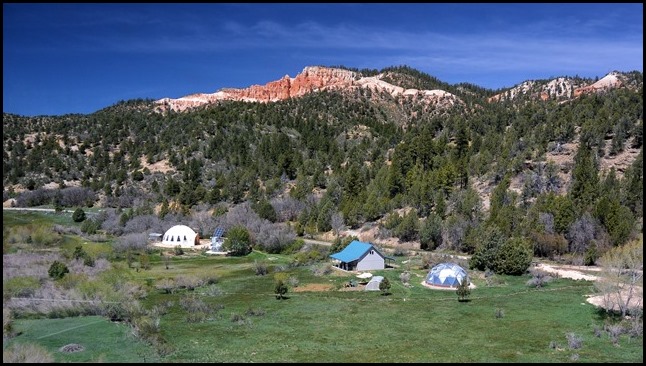 There are other examples of architectural excess. This is supposedly crafted to look like a rock, but the first impression is of a giant pink turd with a dollop of whipped cream. Or maybe that's just me.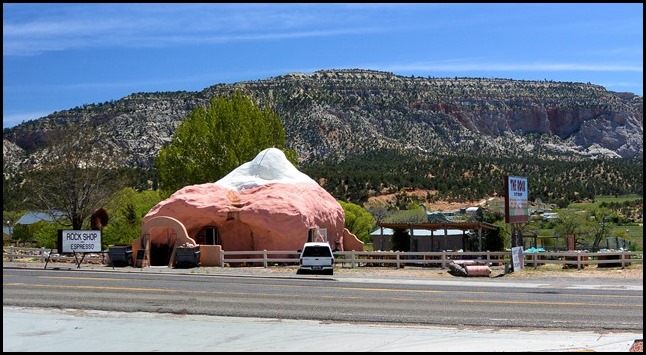 We turned off of UT-14 and headed south down US89 into Kanab. Nice little town, very pretty in parts. But we're not big on towns, and we wanted something more remote, and in closer acquaintance with the Utah scenery.

JOHNSON CANYON
After considerable "map shopping", we decided to scout out Johnson Canyon Road. It goes north off of US89 just east of Kanab, and stays paved for 16 miles before turning to dirt and eventually re-joining US89 north of Kanab. We figured we'd find SOMETHING along all that roadway.
It was obvious from the maps that the first 10 miles were going to be largely private land, and this held true. But truly fine private land it was, situated at the fringe of the Grand Staircase. In fact, the private land stops right at the boundary of the Monument.
Just into the Monument, the Nephi trailhead housed a whole convention of horse people…

… but further up the road, there was pretty much nobody to be found. We scouted the whole paved road and a considerable portion of the adjoining dirt roads going northwest and northeast, but found nothing to match a nice little spot just a few miles above where the road crossed the Monument boundary. It was there we settled in.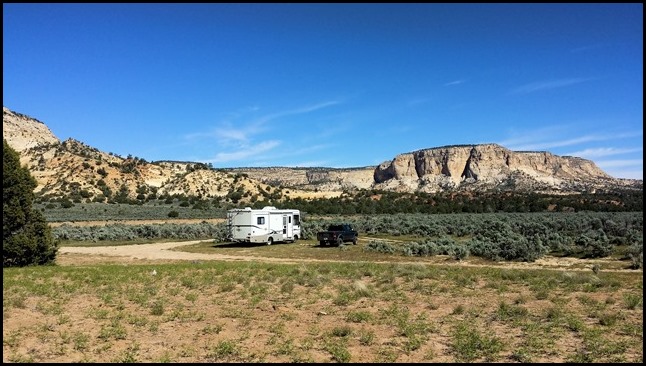 ---
EXPLORING the ESCALANTE
The Grand Staircase of the Escalante (now a National Monument) is a geological feature in Utah (and into northern Arizona) where successive plateaus are "stepped" down from each other. The highest steps are in the north at Cedar Breaks and Bryce Canyon, and the lowest are in the south, the Kaibab Plateau and Grand Canyon area. This image is from the wiki and hard to read, but you can just get the basic information if you click it to full size.

The Monument is about 50-60 miles high N-S, but the overall formations stretch out over 200 miles or so. Obviously, the best view of the staircase is probably from space, but we wanted to see it from a somewhat more personal perspective. By far, the most prominent "steps" in the staircase are the White Cliffs and the Vermillion Cliffs, and those were what we wandered past for a full day of exploring.
We left Johnson Canyon Road at the Nephi trailhead and drove east into the Monument. An arrogant bulge of the line of White Cliffs was seemingly just ahead (actually many miles away).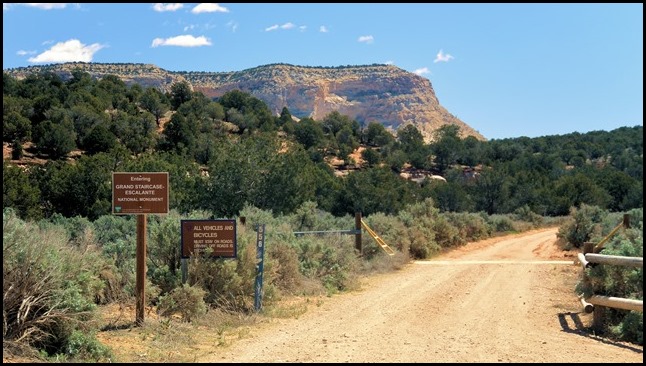 In many stretches of the road, the surface was deep, soft, silty sand. Ralph's 4WD was immediately put to use, and on occasion, we even considered lowering tire pressures for better traction. But there seemed to be a firmer base deep under the sand, and Ralph's big DuraTrak knobs would somehow find purchase before we had to soften the tires. We learned later that the recent rains had left a moist base under the dry surface sand. Had we been there later in the season, there would have been no way forward without reducing pressures.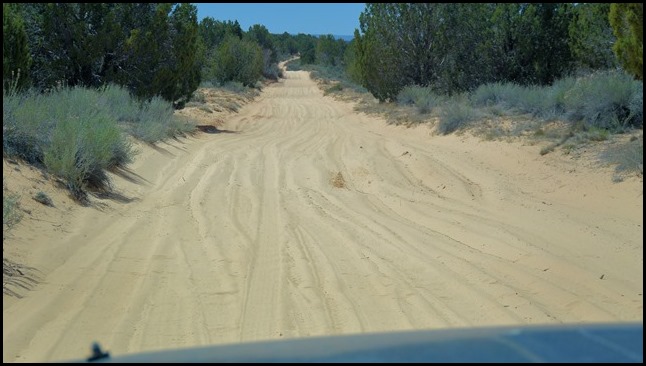 The road could also get twisty and rutted, but the scenery was wonderful and always beckoned us onward.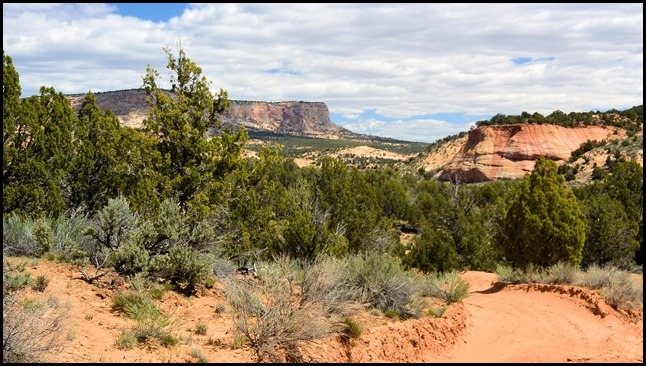 In the brushier sections, the usual jackrabbits and lizards would scurry about — and even occasionally some wild turkeys.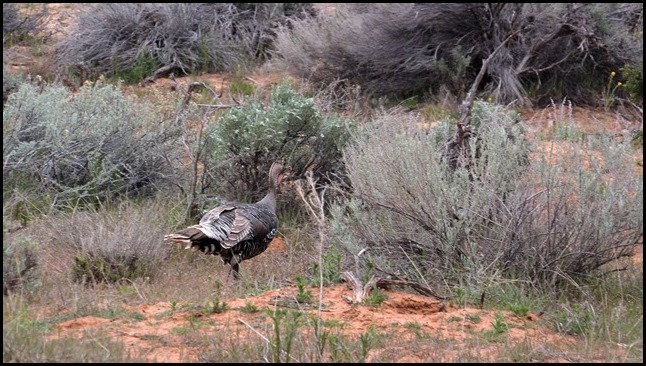 Everywhere along the road, we saw evidence of the region's notorious wild winds. Mostly juniper, the forest was frequently punctuated by wind-shredded trees, torn to pieces by the fury of the atmosphere.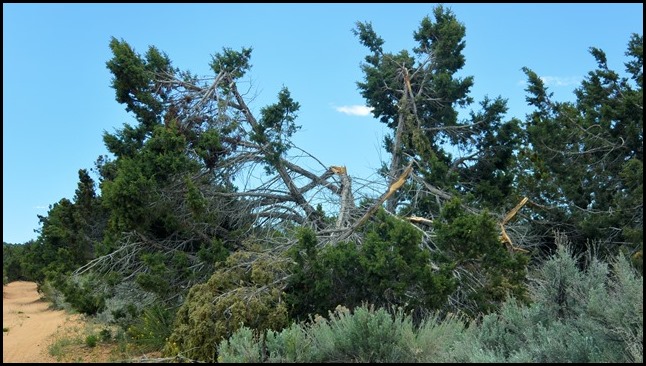 In general, the road was soft and narrow, but not all that challenging. HOWEVER, there were two sections that really got our attention — enough to get out and walk the road and study it before proceeding.
One was a steep, narrow drop-off, soft and minimal traction. The camber of the road would put Ralph on his side in a steep ditch, if I couldn't keep him stuck to the slender road tracks.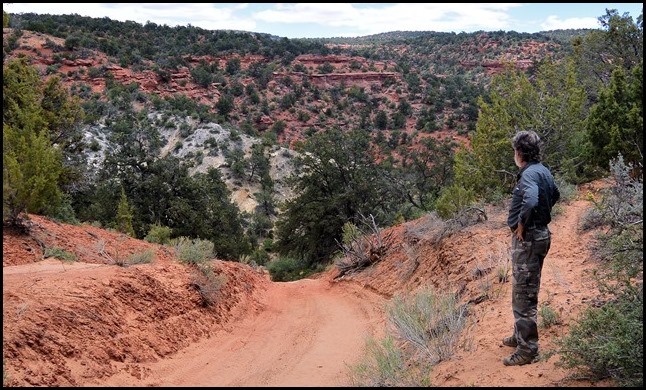 With no other vehicle around, a slip here would be a major blunder, and probably require SAR assistance.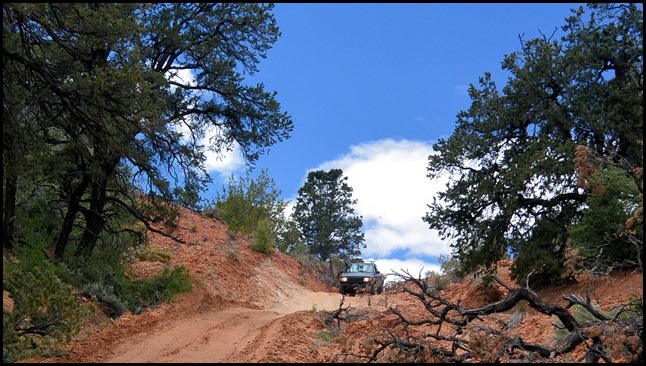 We made that okay, not without a few white knuckles on my part. At the bottom of the grade, the dang trail got even narrower, and we realized that this section was largely driven only by small ATV vehicles. Ralph was a bit over-grown for it. There was one short stretch where chair-sized rocks were arranged in a slalom pattern — piece of cake for ATV's, but lock-to-lock steering turns for Ralph to get through without picking up some sheet-metal souvenirs.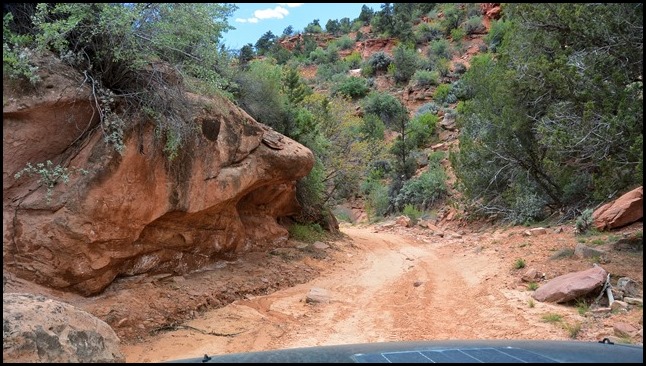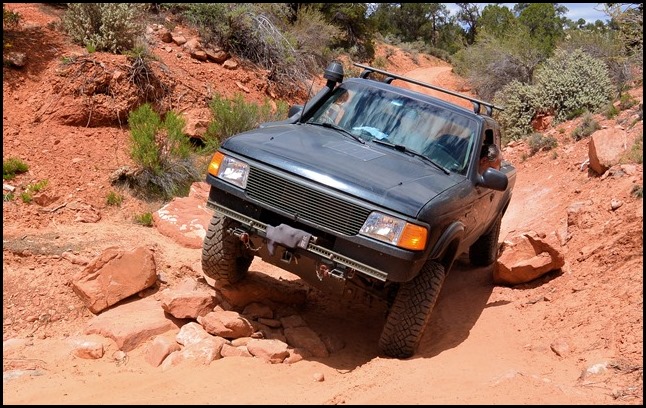 Finally, the road widened out again, and the only remaining obstacles were the range cattle, cows and spring calves mostly. The youngsters are very unpredictable, having not seen cars much in their short lives. They are equally likely to run off into the brush, or dart directly in front of Ralph. Slow is the word.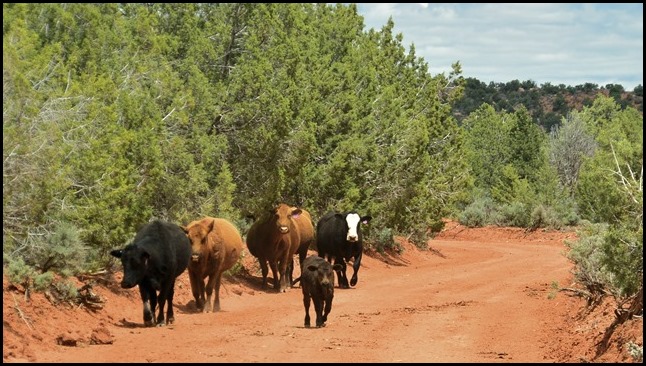 After our steep/rough/narrow descent, we were paralleling the Vermillion Cliffs, and we found a wide flat area to take a break. Karin wandered off into the hillside – – –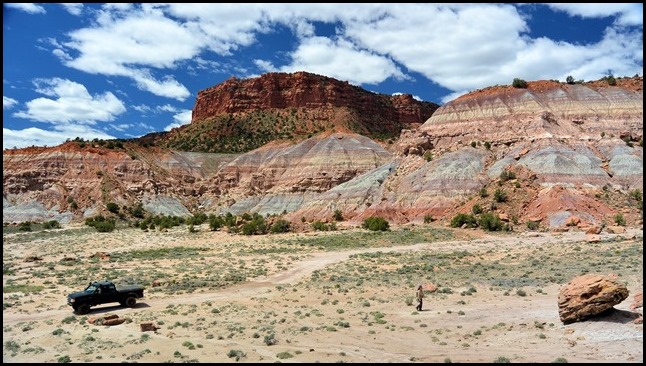 – – – and found a big rock about the right height for a lunch table.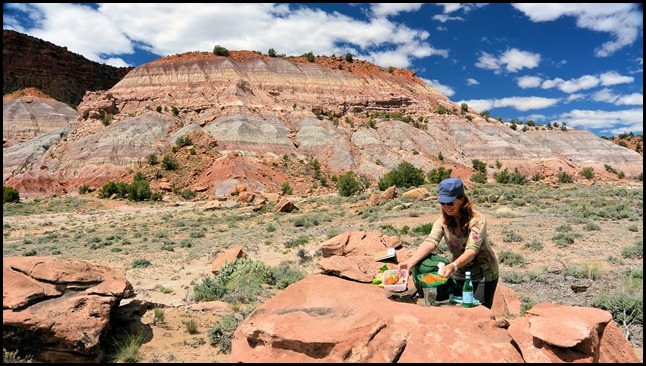 A beautiful collared lizard brought us a bouquet of wildflowers for lunch. Very considerate, for a reptile.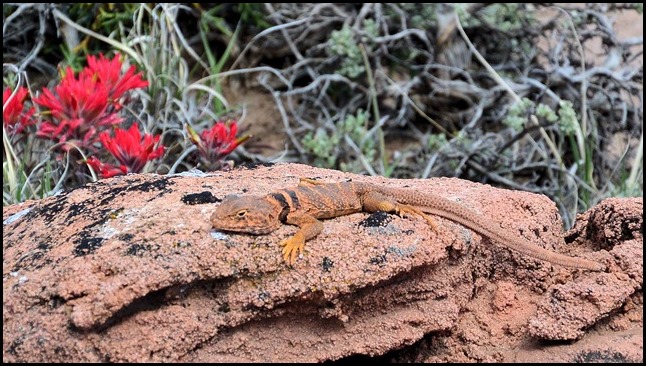 All around us, the scenery was never-ending.

As we were driving down the Great Western Trail section that led to US89, we ran into a BLM volunteer couple who told us about Eagle Sink. It's exactly that — a giant hole in the sandstone where the earth just "sank" away from itself. So of course we had to go see it. (Dang, we rode over some of the roughest tracks of the day to get there too!)
Sheer drops, no retaining rails or lifeguards. Hard to photograph…. Ralph is in the upper-right corner in the second picture, for scale.
From this southern slope above US89, it's possible to get a very cool vantage point on the big Staircase. Here, in the very far distance is a bluff-line belonging to the White Cliffs. Closer, across the plain, are the dark red reaches of the Vermillion Cliffs. We finally felt like we were really standing on a step of the Staircase.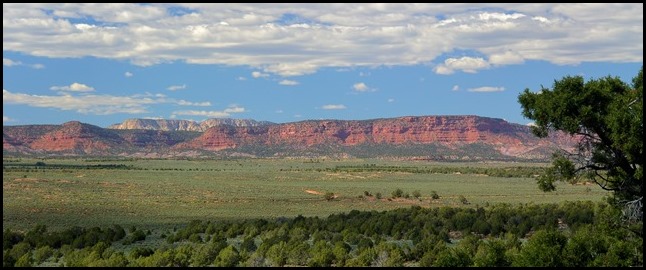 Driving "home" back up Johnson Canyon, once again we found that time of day always produces different displays.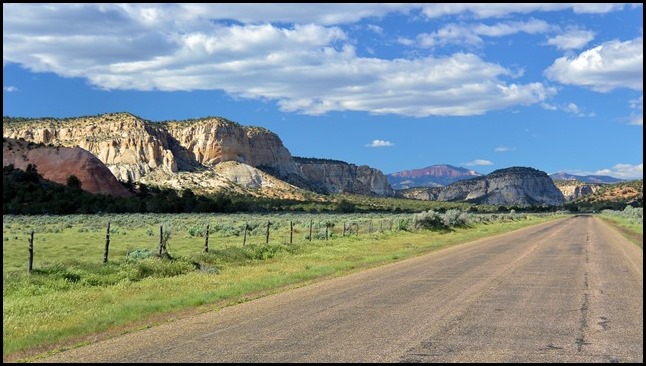 ---
WILDFLOWERS
Something that many folks don't think about is the occasional (and brief) bloom of wildflowers in the desert. Like many temperate-climate plants, desert flora use flowers for propagation, and the recent rains gave a giant boost to the spring wildflower display.
I'm not a botanist, and I cheerfully confess to knowing only a handful of names of the plants, but I can still appreciate their beauty, especially when contrasted against the otherwise stark backgrounds of these arid climes.
They are so lovely, yet so fleeting. Most of them are probably gone by the time you read this. Without further ado or narration, allow me to present a small collection of these little gems.  (As usual, you can click any image for a full-size version.)
---
STILL CURIOUS?