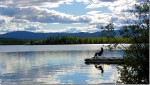 Welcome to my blog. Click  HERE  for my most-recent post (not screened by category).
OR hover over the menu item "BLOG" and pick a category of interest from the dropdown.
---
If you are new here: Please take a moment to read these paragraphs. Also, you might want to click the ABOUT button to learn who we are and what we are all about – – and of course who Howie and Ralph are.
My content is gradually expanding, and I have categorized posts into several areas. You can filter the posts by using the menu BLOG dropdown.
Leave a Comment: Please feel free to reply/comment on any post. I really enjoy the feedback and I often reply, and others can see our thoughts as well. The comment form appears at the bottom of every post, and in some posts you need to click the balloon-like thing at the upper right (it will have the number of previous comments inside the balloon).
Where are we? I sometimes include a map of our current whereabouts in each post. You can also see tracks of where we have made some side-trips, via our Delorme InReach web site. I'll provide such links in applicable blog posts, or you can click THIS LINK to go there. The default view will be the most-recent recorded track. You will need to set the Filter to the date range for what tracks you want to see, or you can just zoom in and out.
Notification: If you would like email notifications of new posts, click the Sign Up menu button. Then simply enter your email address and click NOTIFY ME. You'll get a confirming email, click it and you're done! Don't worry, your email will not be misused, it's very secure. Note that this subscription does NOT notify you of comment follow-ups, it's just for new posts.
To See Older Posts: Click any of the entries under Post Archives on the sidebar of a blog page, and select a year/month/post that interests you.
Thanks very much for reading,
G.