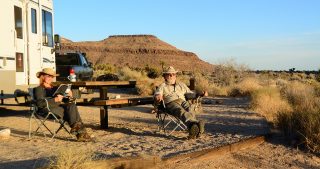 So – – – What's with that funny URL? divver-city??
It's just a little play-on-word. The word "diversity" is pronounced "dih VER sit ee". But if you mis-pronounce it (DIH ver SIT ee), you end up with divver-city. (Someone else thought of a variation – – see diverse-city.com, no relation to me.)
Diversity is the element of daily living that keeps us interested, alive, energized. To paraphrase a line from William Cowper's 1785 poem "The Task" – –
"Diversity is the very spice of life, That gives it all its flavor."
(The original word was not "diversity" but "variety". Sue me.)
Karin and Greg
Greg (that's me) does the writing, driving, and fixing; Karin does everything else. Different pictures, at different times. Karin and me "dipping our toes" in the Arctic Ocean, on the shore of the Beaufort Sea at Tuktoyaktuk, NWT, Canada. Karin riding an antique bulldozer at Carrizo Plain, CA, and me goofing off with an iron terraraptor at Borrego Springs, CA. We really like getting out and about, and these snapshots epitomize the wandering life that we sometimes are able to enjoy.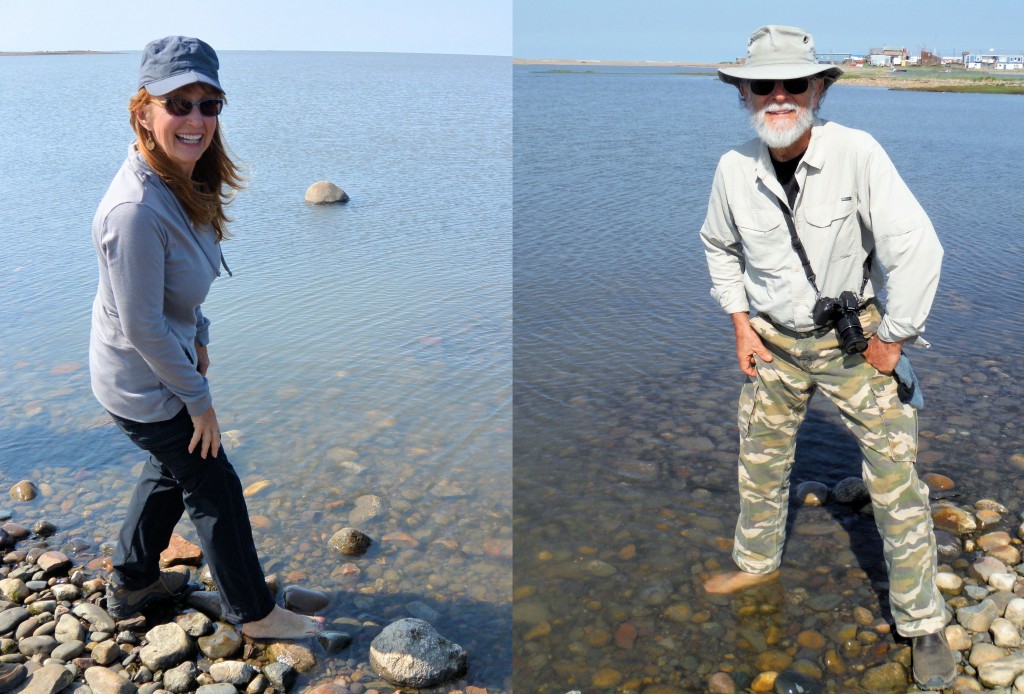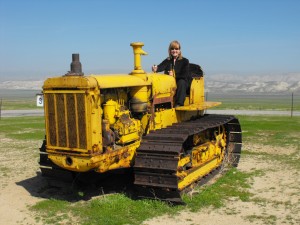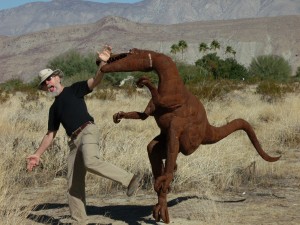 Howie and Ralph
These are our erstwhile steeds. Howie is a 2003 Itasca (Winnebago) 27-foot class-A. His name stands for: House On Wheels In Excess. The "excess" is how much more comfortable Howie is than our previous tent-camping life. Here he is (with Ralph in tow) at the beginning of the Cassiar Highway in British Columbia, Canada.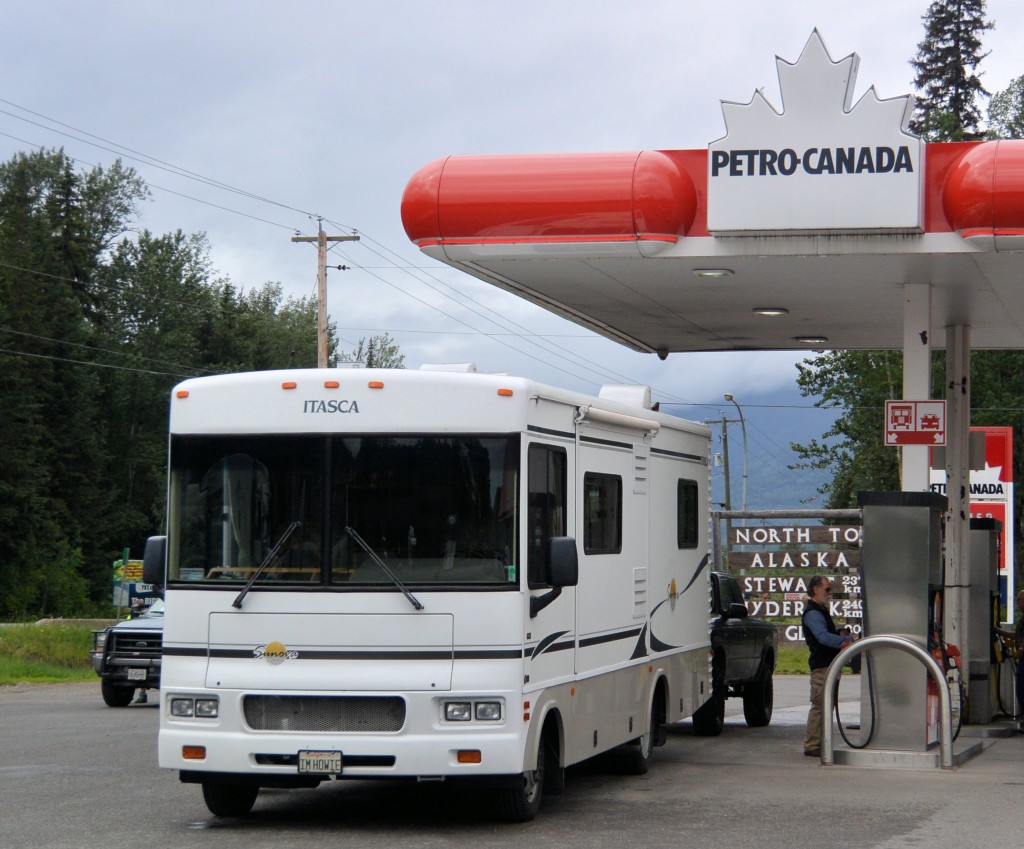 Ralph is simply short for "Ranger Ralph", in reference to our 1996 Ford Ranger 4X4 pickup. Both Howie and Ralph are rife with mods and upgrades by yours-truly, and we enjoy them both nearly as much as we enjoy the places they take us to. Ralph has negotiated dry desert gulches, wet river fords, and many other "obstacles".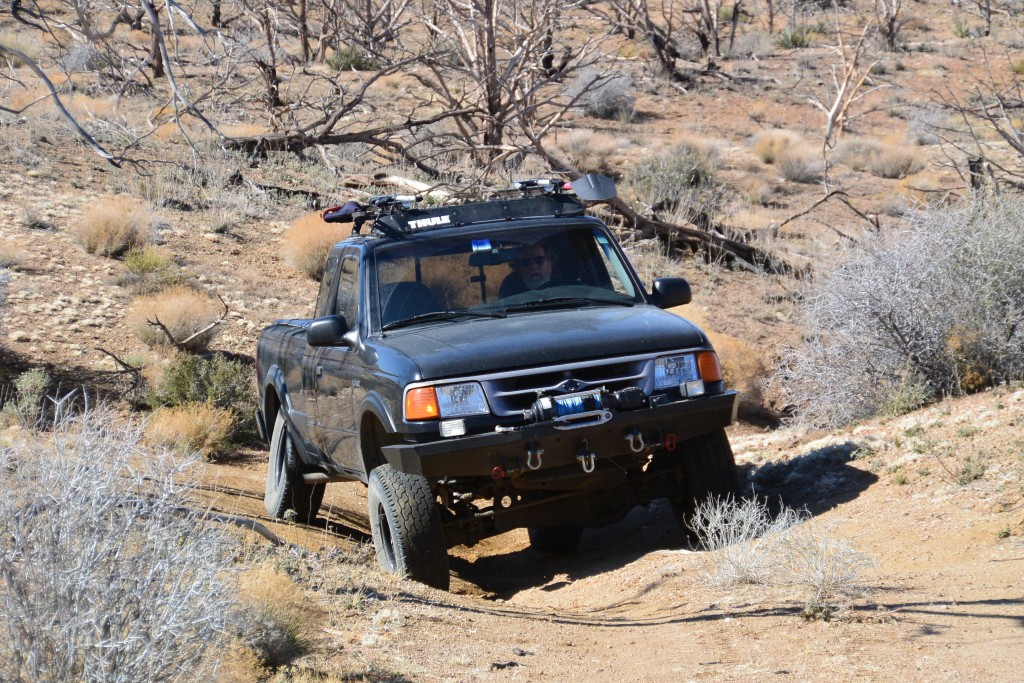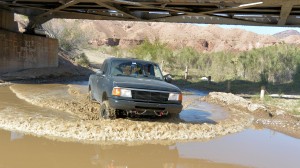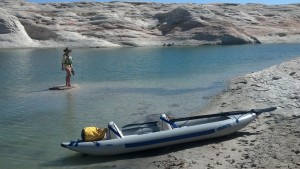 Bote — a latecomer, our earnest little Sea Eagle FastTrack 385FT inflatable kayak. Such fun, and stores away in a cargo bay.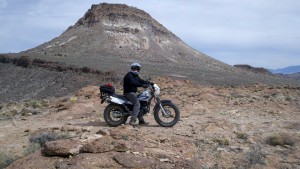 In the Beginning
When we first started exploring with Howie, we had a piggy-back motorcycle (named Papoose, naturally). It was a nice 2009 Yamaha TW-200, and we put well over 1000 miles on it. Rough, windy, cold, injury-prone miles.
After three years and a sprained ankle, several bone-chilling rides, and a general reluctance to use Papoose at all, we sold the trusty two-wheeler and started towing Ralph. This is working VERY well. As of the beginning of 2017, we have taken Howie and Ralph all over the western States, and through Canada and Alaska to the Arctic Ocean and back. What's next? Only time will tell.
---
OTHER STUFF
I spend some of my time maintaining my (very) amateur musician status, singing some songs and playing acoustic finger-style guitar. When I learn something that's not too embarrassing, I record it and put it up on my youtube channel.
You can also find some miscellaneous tidbits and posts (some political, some not) on my Facebook page.
---
PS – – This blog is pretty much a G-rated, family-style discourse on travel, and (to a lesser extent) life and projects. For some more philosophical, political, and perhaps contentious, discussions, see my WordPress blog at: