This is not my typical recounting of an RV-based journey of exploration. This time, my exploration was of an entirely different nature, and it was both external and internal. More of a personal journey than typical.
For much of my life, I've owned and ridden motorcycles. After a recent hiatus, I decided to get back into riding again, and it's been a good decision; I've enjoyed the freedom and the intense experience of being right there in the environment I'm passing through. Unlike cars and RV's, the motorcycle offers no isolation, no protection, no separation from the wind, weather, smells and sights of the road. It's a naked experience.
For some, this intensity is overwhelming, not to mention concerns with the inherent dangers of hurling one's body through the air at 70mph, without the luxury of seat belts or airbags. For me, both previously and right now, it's purely exhilarating. And yes, at 70 years of age, my old bones aren't going to heal so quickly, should I have the poor grace to fracture any of them. So I'm riding carefully and cautiously and with full protective gear — but nonetheless joyously all the while.
My choice for this phase of my motorcycling "career" was a Yamaha Super Tenere, a top model of a genre called "adventure motorcycles" (as if just getting on any two-wheeler isn't an adventure in itself, hah). The Tenere is a big bike, over 600 pounds, and is built with plenty of suspension travel and ground clearance. Its mission is to travel on both paved and dirt roads and to essentially offer the flexibility to navigate safely on "the paths less traveled". The bike will carry two people, or me and well over a hundred pounds of gear, nearly effortlessly, at speeds that would make a cop salivate. Its handling at all speeds is impeccable, and after several thousand miles I can say it's one of the safest bikes I've ever ridden.
Given to naming my vehicles, I called the Yamaha "Teezer", because it always teases me to ride it. (And of course, now I can be the geezer on a Teezer.)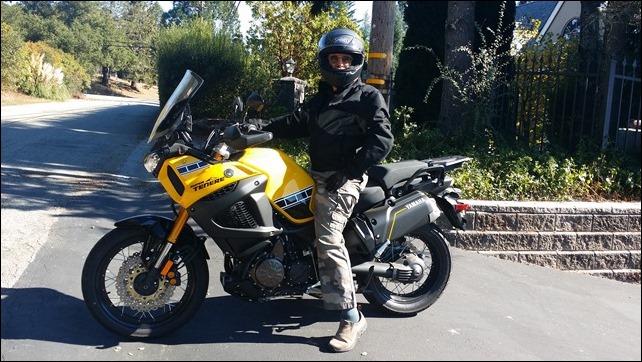 I spent several months in break-in mode, and day rides around central/coastal California — not a bad way to put on some miles. After my break-in period, I decided that the bike and myself were in need of an extended road trip.
Having done most of my life's riding in the dirt, the prospect of traveling hundreds of miles on pavement, amidst cars and trucks and such, was definitely outside my comfort zone — one of the really good reasons to do it. In addition, I elected to make the trip a bit of a "couch surfing" expedition, stopping to visit friends, and mooching a couch or bed for a night or two where possible instead of staying in motels.
This "guest" part was way different from the total independence and privacy of my usual RV trip, and absolutely blew the lid off my comfort zone. And to top it all off, I'd be traveling alone; Karin would stay home after some minor surgery, and indulge herself in some solitude and favorite TV shows.
This trip would be stretching me in so many ways. I would be exposed to weather and wind, I would be at the behest of available motel rooms and people's good graces, and I would be alone a long way from home on a nearly brand-new machine. Compared to any journey I've ever taken by RV, I would be traveling "naked".
So it finally came to pass, during an uncommonly dry spell in February 2018, I loaded up a combination of real camping gear and "credit-card camping" (motel) gear, plus a few bottles of wine to help ingratiate myself with my hosts. I'd been hoping fervently for a 10-day no-rain window, and it looked like it was upon me.
I blew some kisses to my wonderful wife Karin, and motored on down the road. Geronimo.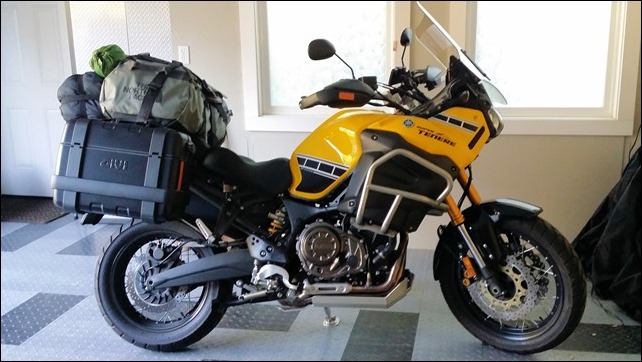 ---
TO MOJAVE, THE BIG FLAT, and MORONGO
My baptism-by-fire was a long "slab run" — slang for straight, boring highways — from home to Mojave. Although some of the roads are more pleasant than others (US101 for example), it's pretty much a long and non-scenic ride. No sweeping turns through the landscape, just miles and miles of pavement. I was glad to get to the Mariah Hotel, and I was looking forward to its on-site restaurant.
Oh, too bad — didn't we update the web site? The restaurant was closed. But the bar was open, and had some vaguely tolerable appetizers and a really talkative fellow guest.
My first (motel) night out passed uneventfully, as is often the case. The next morning, I loaded my gear on Teezer and pulled out of the parking lot to get some gas. DAMN! the bike was handling like crap, felt like I was driving on deep sand. I figured I must have picked up a nail and gotten a soft tire.
I rode ever so carefully about a mile down the road and pulled into a gas station. After filling up, I rode over to the air pump and measured my tire pressures. Front: 32psi, perfect. Rear: 0psi, very imperfect indeed. The only positive feeling I had was that the bike had actually been rideable on a 0-psi flat tire, without running the thing off the rim. Impressive.
I went inside to get some quarters for the air pump; when I returned, the compressed flat tire had lowered Teezer to the point he'd fallen off the kickstand, and was lying flat on his side. A friendly local helped me stand all 700 pounds of bike and gear back up again. Crap. 9:00AM and I was exhausted.
The next hour was spent working a plug into the tire, something we all get to do now and then that never becomes very likable in any way. It seemed to be holding air, so I took off for Barstow.
Damn again, the tire lost 10 psi by Barstow. I pumped it up again, and hurried down the final leg to Morongo.
---
PETER'S PROJECT
One of my strongest motivations for making this grand trip was to meet up with my friend Peter, who was traveling from Switzerland to southern California to work on a project bike. Peter plans to ride the Trans America Trail (TAT) in 2019, and he's spending lots of time and money getting ready for that 5000-mile expedition. I really wanted to visit with him, and be a part of it (however small).
By previous arrangement, Peter was staying with friends in Morongo Valley. Axel and Zoila had offered to take me in as well, for which I am eternally grateful. Not only did it make my stay simple and close to "the job site", but it also offered me practice runs with Teezer on the mile-long dirt road leading to Axel's driveway. I hadn't quite planned on doing those runs with a half-flat tire — but oh well. At least I had a safe place, and tools, to work the tire.
I hadn't gotten to know Axel very well yet. The sign outside his garage promised an interesting acquaintance.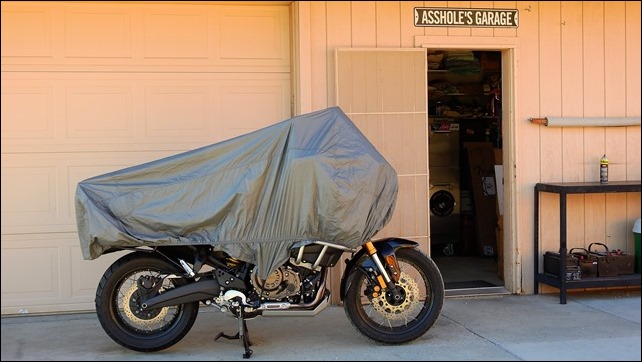 Also accompanying Peter was Tom (from Germany). They are planning to ride the TAT together, and Tom too was working on his TAT project bike. On top of all that, Axel was also building a bike from the frame up; Axel's garage looked like a small-scale production floor at a mom-and-pop motorcycle company. So cool.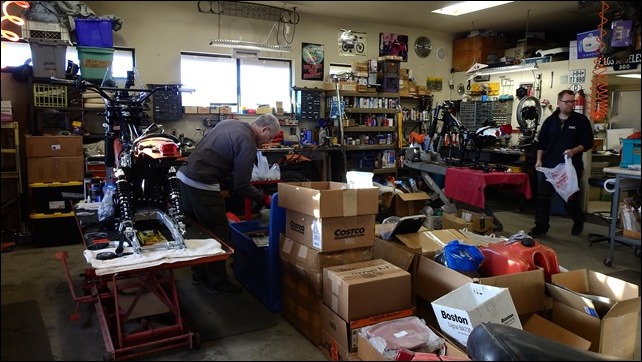 Peter is a Yamaha XT-500 fanatic; although these bikes were of the 1970's and 1980's, they have a loyal following, and he is one of the most loyal. I won't bore you with the endless shots of bikes-in-progress — just a few samples for the m/c geeks though…
At one point, we did manage to take a half-day off from the bike projects, and Axel, Zoila, and I toured down through a portion of Joshua Tree National Park. It was a free Sunday and mobbed with traffic and tourists, but still a pretty nice ride. Axel has a Tenere just like mine, and they made a pretty pic.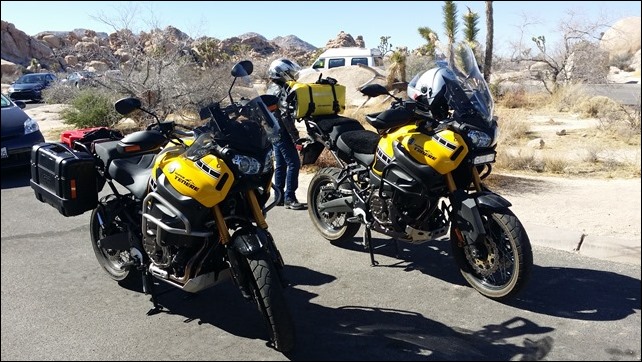 After 100 miles on the Joshua ride and a couple of sitting-still days, it was obvious that my plugged rear tire was not going to hold air reliably. We tried again to stop the leak, but to no avail. Finally, I decided to get a pro involved. Josh at Fischer Motorcycle Service (Yucca Valley) was an absolute prince, and he talked me out of any repair. Instead, I had him replace the tire with a different brand; and because they tend to run best in sets, I had the front swapped out as well. By a total stroke of luck, Axel already owned the exact set I was planning to buy, so we didn't even have to order them.
When Josh pulled the old tire off, the problem became obvious. A crooked piece of metal had gone into the tire sideways, instead of perpendicular to the tread. All of my plugging efforts were in the wrong direction, as you can see from the photo. Lessons learned — always know the path of the puncturing object or you'll never get it fixed right. That little scrap is a $500 piece of shrapnel.
Later in the week, we had a chance to drive over to San Bernardino to Chaparral's — the most gargantuan motorcycle store I have ever witnessed. Bikes, clothing, accessories in the thousands. I could spend days there — a picture can't do it justice (thanks for the great shots Peter). The floor space must be measured in acres.
We were a big happy family for many days, but all good things end; Tom went back to Germany, Peter to Switzerland, and I bid a thankful farewell to my new friends and boogied down the road to Palm Springs.
PALM SPRINGS and SANTA PAULA
There were some truly vicious cross-winds along Twenty-Nine Palms highway that day, and I was getting moved over by a half-lane with the gusts. I had to slow to 60 for the best control. Teezer was slanted over about 15-20 degrees at times. The drivers of the cars passing me had white all around their eyeballs — I must have been quite a sight, swerving back and forth and leaning left and right.
I've known John and Charlene since the late 60's; they winter in Palm Springs, and it was a wonderful chance to stop by for a brief catch-up. As my couch-surf luck would have it, they already had company, but John shut down his office and jammed some furniture around and made me a great air-bed spot. Home away from home, and one less night in a motel (thanks again John).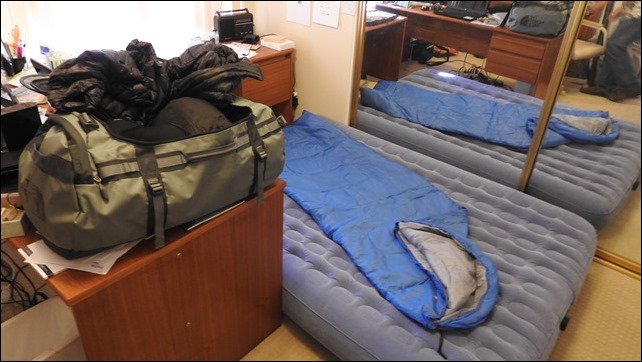 We spent time laughing and yakking, but by this time the weather was threatening to change and I had another stop on the way home yet to make. Yet I was also hesitant to leave due to the still-fierce winds in the area. Banning Pass was on my route, and is a notorious wind tunnel. The day I left, forecasts were for 15-25mph gusting to 40mph. I figured if it was too bad, I'd just turn around and show up at John's door again. So I departed, but with a backup plan.
The winds were indeed monstrous, but mostly headwinds and quarterly headwinds. Nowhere near the sideways blasting I had experienced coming out of Morongo. I made it through the 20 miles of the Pass pretty much uneventfully, but well buffeted.
And it was COLD!!! Temps were in the 40's, and as I worked up toward highway 138, the air just got thinner and colder. Finally, I had enough. There's a nice little café at the top of 138, and I stumbled in  there to get warm, have a snack, and put on some extra gear. It was 38F outside.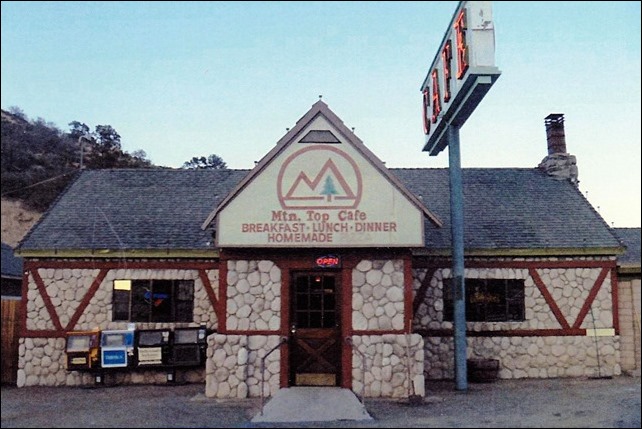 After the café stop, the road headed downhill; weather got warmer as I took I-14 to I-5. Good gravy, what a horrible road that I-5 section is. Massive trucks, construction, traffic jams and potholes everywhere. Disgusting highway. But soon, I turned off onto the very pleasant highway 126 and headed over to Santa Paula (just east of Ventura). This was to be another high spot of my trip, for I was meeting up with a boyhood friend, Steve, whom I had not seen in 45 years.
Steve looked exactly like I remembered him, plus some gray. He's my age and looks ten years younger. As his (bad) luck would have it, he came down with a minor medical issue coincident with my arrival. Bad news was I needed to drive him to the hospital in Santa Monica; good news was we spent tons of time together getting caught up and reminiscing.
Steve is working on a spectacular project, combination hangars/condos for the airport. It's a fabulous design and he's just about to break ground. The local dirt-bikers are using the land for practice for just a little while longer.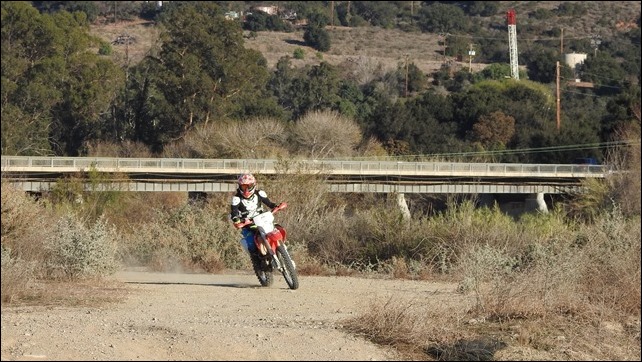 Meanwhile, Steve lives in an existing apartment-above-hangar unit. When I was flying many years ago, I often fantasized about doing what Steve is doing; finally, I had a chance to (briefly) experience it, and it was as wonderful as I always thought it would be. Imagine, just walking downstairs in your home, getting into your own aircraft, and flying off to anywhere you wanted to? Magnificent.
---
CAMPOUT-NOT and HOME
Throughout the entire trip, I'd been hoping for some warmer weather. Alas, no soap. My preferred target for a night's campout was Carrizo Plain, a little-known National Grassland in south-central California, almost directly north of Santa Paula via some fabulous motorcycle roads. There's also a long dirt road through Carrizo, an excellent run for my big 'adventure' bike.
Sadly, the night-time temps were relentlessly forecast in the mid-20's, and my camp gear was good for no lower than 40F or so. My fallback was to head over to the warmer beach area, perhaps to Morro Bay or Pismo. There's a nice camping area at Avila Beach too. But my extra time in Santa Paula was colliding with the incoming weather system.
At first, the weather front was due on late Tuesday, giving me Monday night to camp and Tuesday to travel home. Then the system and forecast jumped up to Monday evening. So much for a campout. And, with my minimal rain gear, I decided to make the 300+ miles all on Monday.
This final leg was my second 300+ mile day, and much more pleasant than the first (to Mojave). I had gotten used to the bike and was riding more relaxed; I had also tweaked up the seat for a better position. I ended up making 320 miles in 300 minutes (5 hours) — not a bad average. Although I was admittedly a bit tired by late afternoon, the miles had truly melted away. I think, as I improve my riding technique, a 500-miler might be possible without too much pain. Time will tell.
With 1200 miles behind me, my initial "nakedness" has become comfort, wisdom, and confidence. I'm looking forward to many more miles on Teezer; in the future, I should have some great places and experiences to share.
And no, I'm not putting Howie and Ralph out to pasture — they will get their turn. Even Boeing and Airbus will get their chance, when we do some international traveling later this year. Stay tuned…..
---
STILL CURIOUS?
---