Utah Escalante Slot Canyon Hike
There is a lot of extraordinary scenery in southern Utah, with mesmerizing colors and forms for hundreds of miles of landscape. But there is perhaps no single experience as extraordinary as hiking one of the many "slot canyons" that are sprinkled about the area.
What's a slot canyon? It's a water-worn passageway, where the erosion has occurred quickly and vertically. The appearance is as if two enormous walls of sandstone were brought close together, but not quite touching. Slot canyons can be as narrow as 1-2 feet, and as tall as 200 feet. They can have smooth sandy bottoms, or incredibly rugged rock-falls littered with stones and debris from the torrential water flows that form the canyons.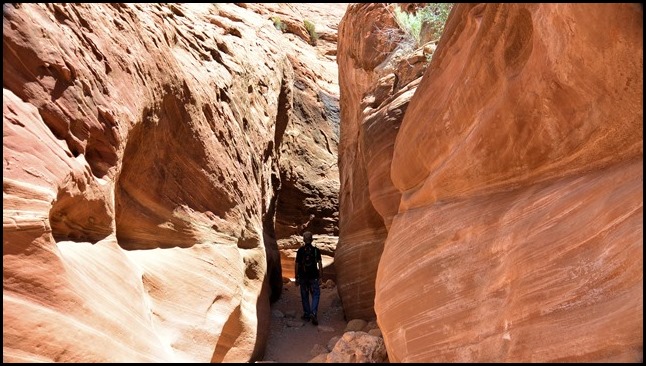 We spent a day hiking a canyon known as Wire Pass. It is short, only about a half-mile long, and it originates at an easily-reached parking area off of the rough and dusty House Rock Valley Road (south of the big kink in US89). I had seen slot canyons before and peeked into them from the top — but never actually hiked down through one. It's a sublime experience.
We drove south about 8 miles off of US89. The Wire Pass trail head is only about a half-mile from the first easy-access slot canyon in the region. The trail starts off down a sand wash, one which indicated some pretty dramatic past flows. It's extreme water cascades like this that slice out the slots in the sandstone below the wash.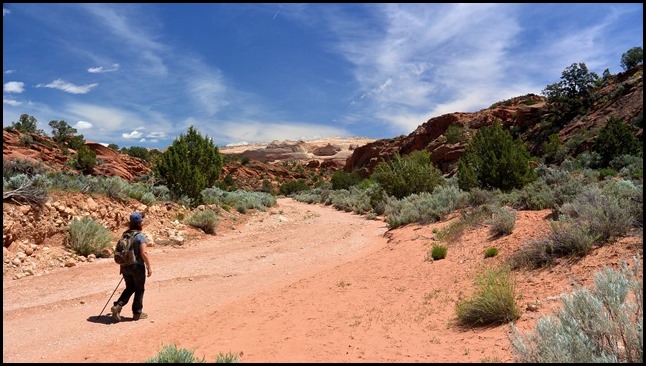 All along the walls of the sand wash, wind and water have left their marks.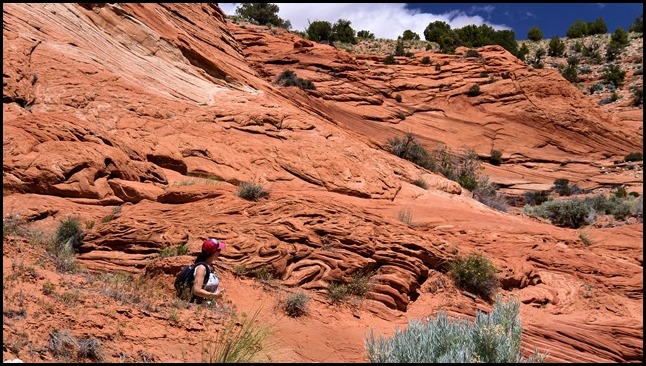 When we first entered the canyon, it was not very deep, and the light easily penetrated from the sky above.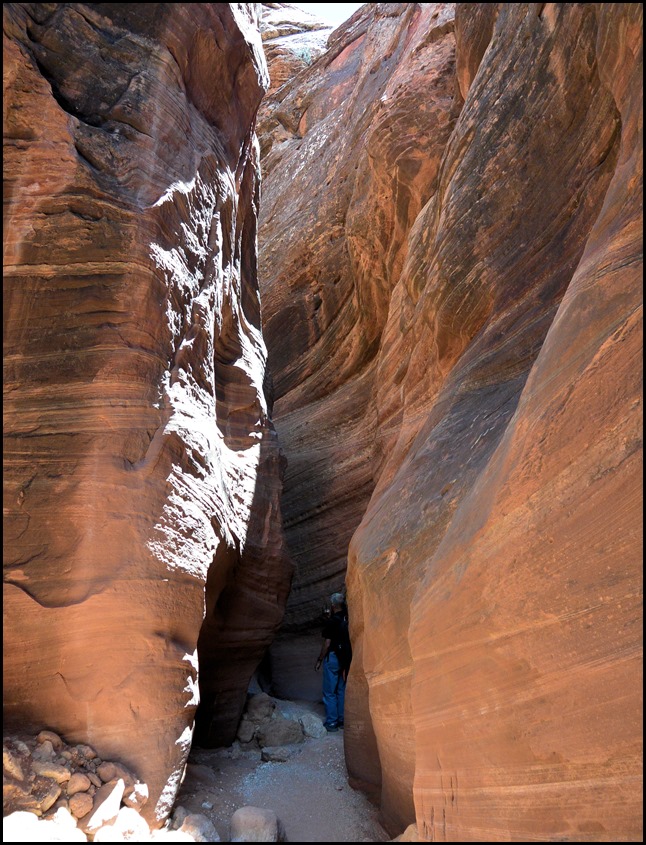 As the walls got higher, the slot got darker….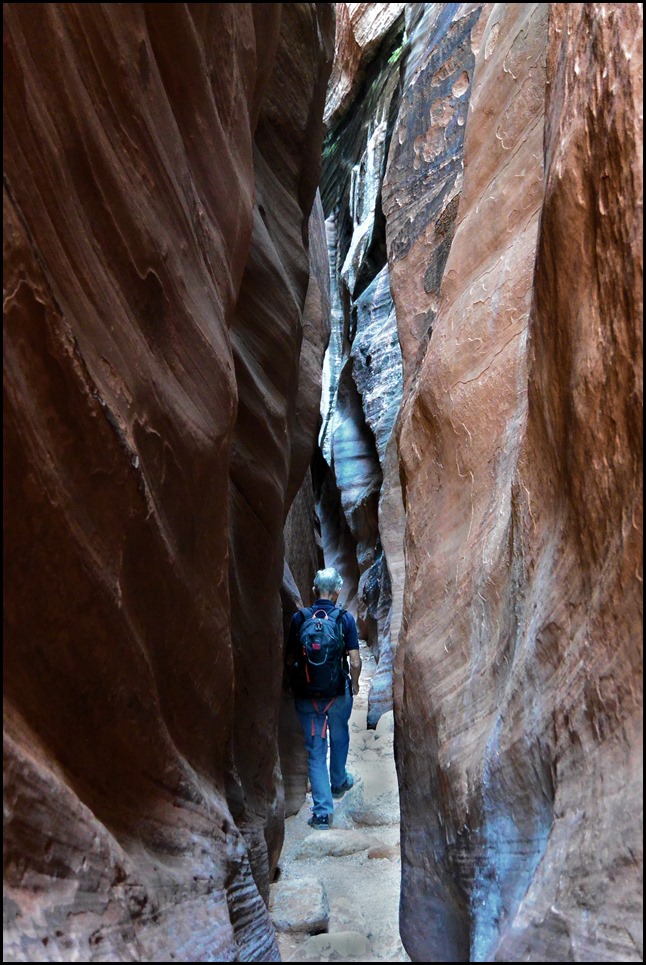 In some places, the walls have aged to nearly black.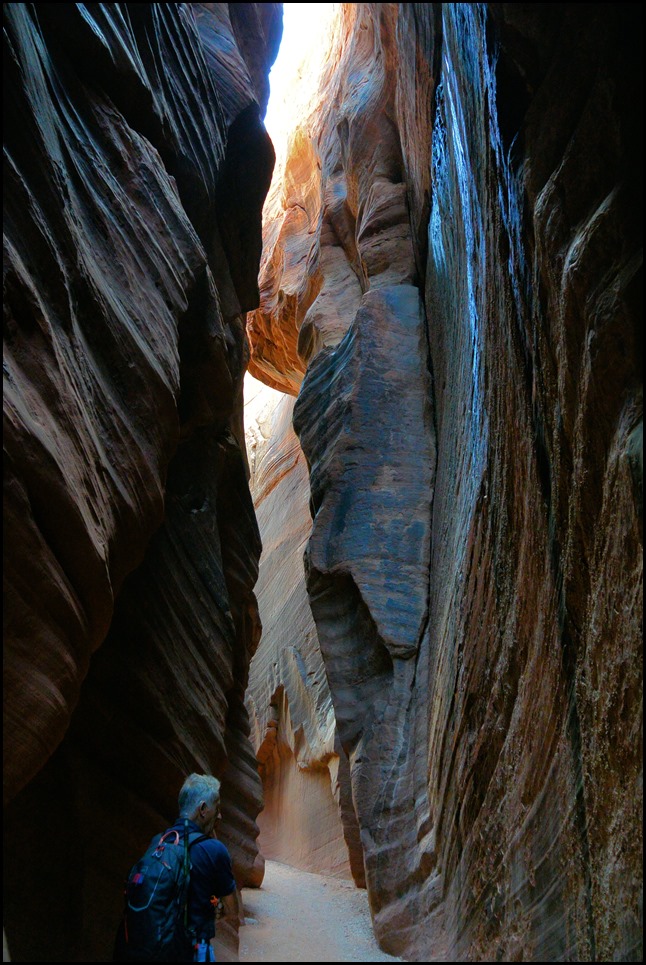 Deep in the canyon, a boulder had fallen and wedged in between the walls. The trail led to the top of the boulder, and there was then a startling drop of about 8-10 feet straight down. Only some washed-in driftwood gave any purchase, and the rocks had been worn smooth by weather, and by human traffic as well. We stared and puzzled at the blockade for some time, and while we were trying to figure it out, some hikers came up from the other direction.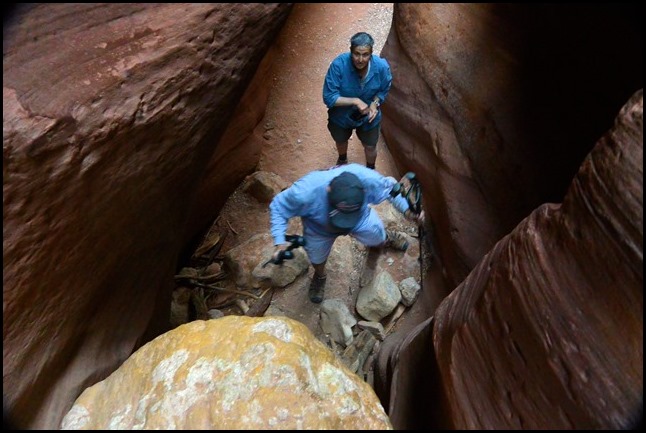 Some fearless Japanese tourists were next. The hell with Japanese decorum, they just scrambled and clawed and man-handled each other down the rock pile. It was hard not to laugh, but we pictured ourselves in the same predicament and bit our cheeks.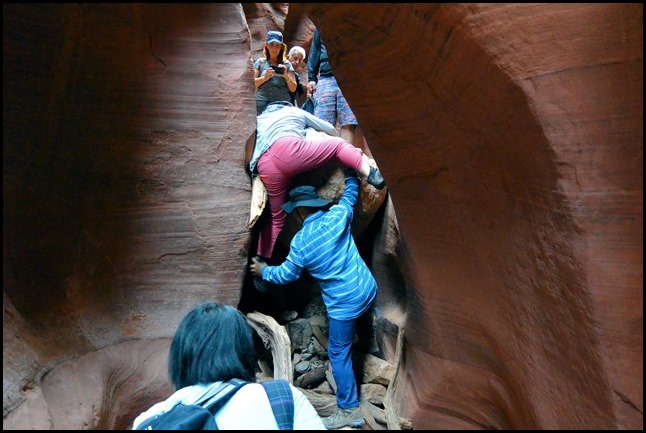 Just as we were about to continue on, another couple with a pair of big dogs showed up. (It's a popular place to hike for sure.)
They handed their packs up and then did the same thing with some really well-behaved mutts. What a hoot.
After helping them all negotiate the struggles, we figured out how to scramble down (and hopefully back up later on). We continued down the canyon, and it gradually widened out and lightened up again. By this point, the walls were well over 100 feet tall in places.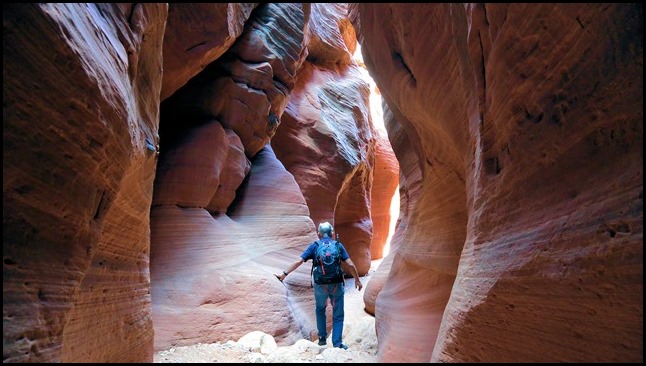 It finally emerged into yet another canyon (Buckskin) which branched both left and right.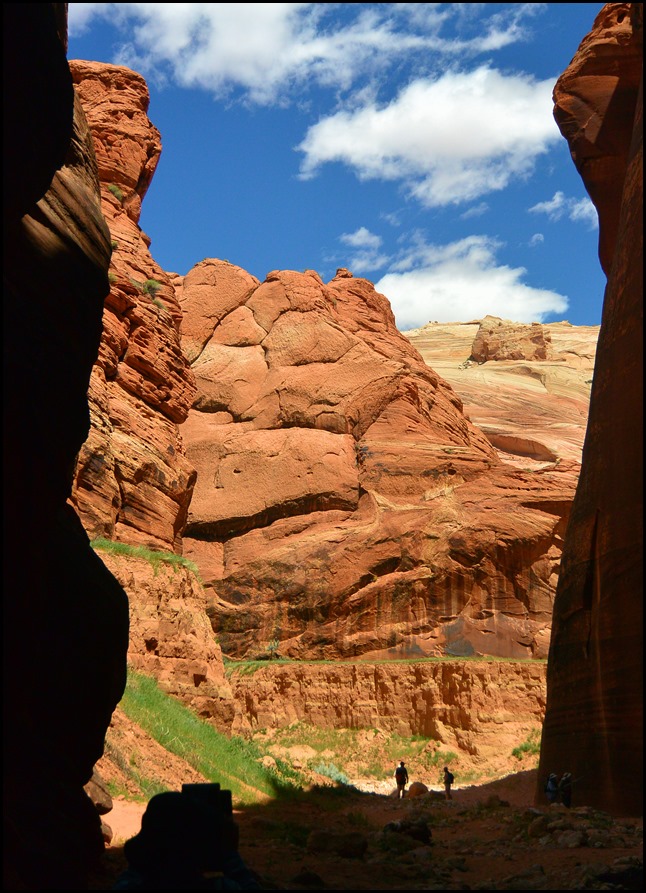 View to the north – – –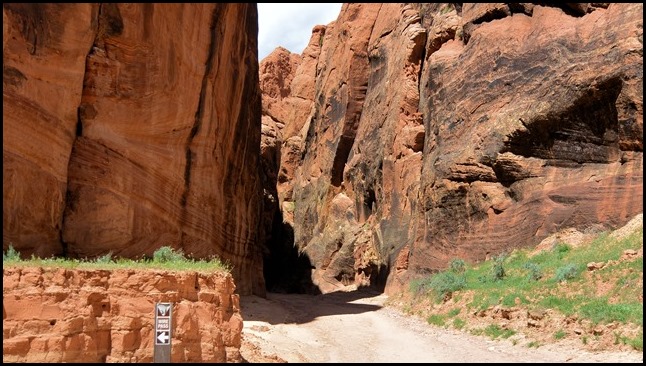 – – – and to the south.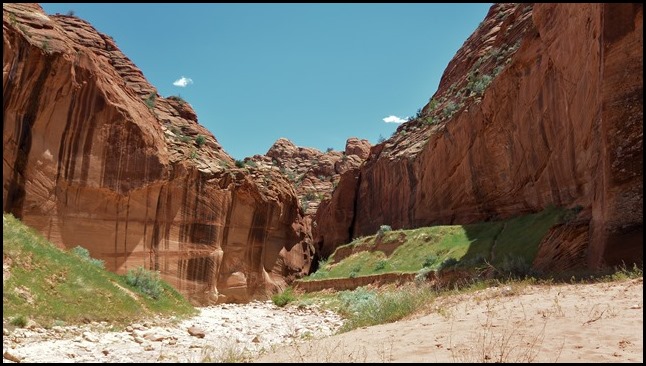 There was plenty more hiking to be done, but that was for another day. (And maybe a little cooler one, it was 85F that day. Cooler in the slots of course.) We reversed course and headed back into the Wire Pass canyon.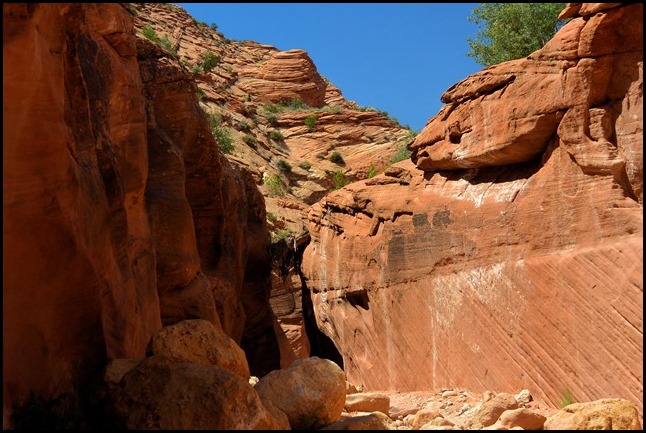 When we returned to the rock-jam point, and it was my time to scale the boulder, I tried the "bridging" technique. Kind of like a slow motion Jackie Chan movie, without the elegance or grace.
Caveat/note to self: make sure you have plenty of reserve strength for this stunt. Losing my grip would have meant a scraping, skidding fall, landing on my butt or back, on boulders and logs eight feet below. Concentrate, concentrate.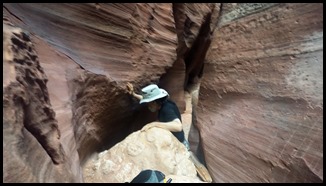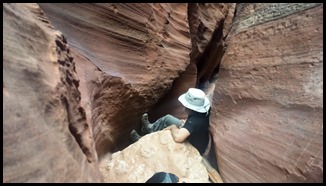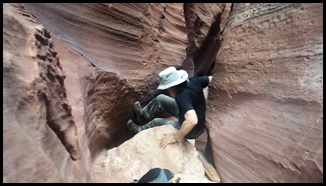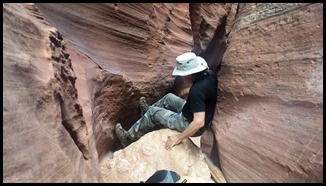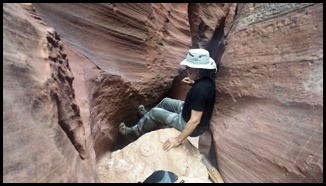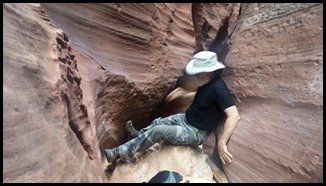 When we came back out of the slot canyon, the day had heated up quite a bit. I, for one, was pretty toasty. It was a bit of a trudge up the sand wash and back to the parking lot. But we were all delighted with the experience, enjoying the gorgeous day, and happy for each others' company.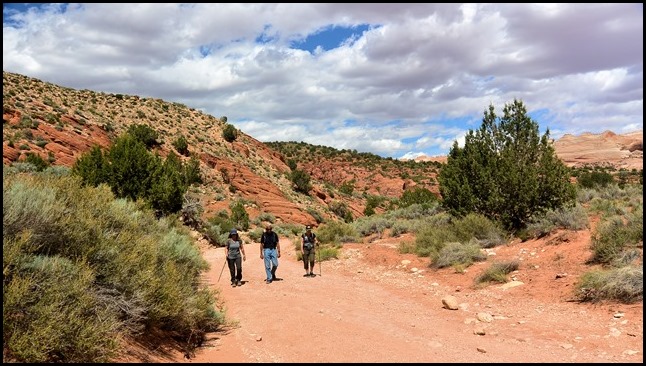 ---
Still Curious?
If you want to go see Wire Pass, head east out of Kanab on US89. Go through the big "hump" and be ready to turn off just before the road turns sharply east again. The coordinates for the Wire Pass parking area are:  37.0193, -112.0249  (Pssst: it's actually in Arizona, just below the border.)
Are There More Slot Canyons?
Oh heck yes. See this link for lots more info.
The Wave
This same region is also host to this very famous artistically-eroded canyon, so much so that visitation is by reservation only — 20 people per month. Over 2000 try for the coveted tickets. See the WIKI for more info.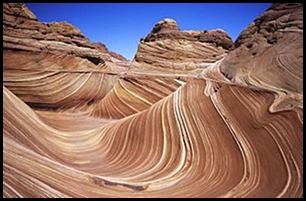 ---