Silvers, Reds, and Browns
Our guide said it kind of nonchalantly, "There's one. Nope, it's two." Just matter of fact, that we were boating past a couple of young brown bears out on the western edge of Cook Inlet. The bears were a little uncertain of us (good!) and swam away from a small bog-island and over to the mainland shoreline.

There, they started alternating between swimming along the shore, fussing around with each other, and plowing through the shoreline underbrush. The guide took a savvy look upstream and told us we'd go up to the stream entry point and intercept them. Cool plan.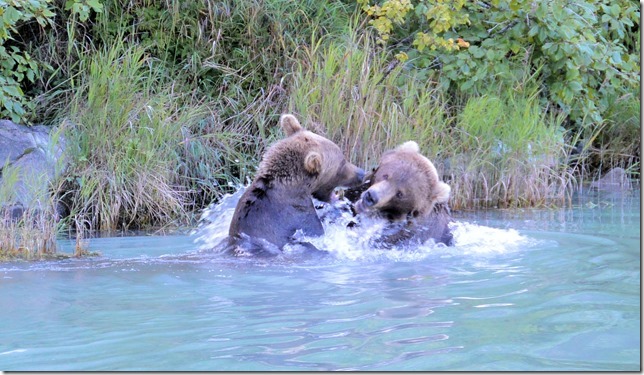 We had just a couple of hours earlier climbed into yet another turbine Otter, this time a float plane, and taken the 20-minute flight across Cook Inlet to the wild, un-populated western shore. We were flying with Alaska West Air, and I have to say we've never had a better experience. It's a family-run business, and they know flying, fishing, and wildlife like they've done it for decades – and they have. Very cool folks.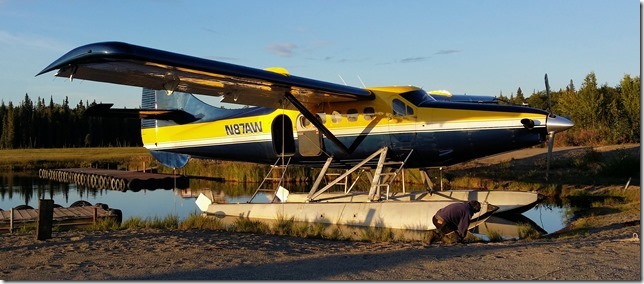 Inland from the shore in that area is a network of waterways, mostly very shallow, where salmon like to spawn, and bears like to come and eat the salmon. One place in particular, Wolverine Creek, is widely known for heavy populations of both fish and bears.
This area is meant to be wild and stay wild, and no permanent structures are allowed. That means that aircraft and boat docks are temporary — and not always in tip-top shape. We were provided with leg-boots and warned to watch for sinking docks! It was true… but they held us up well enough, and lots of other folks too.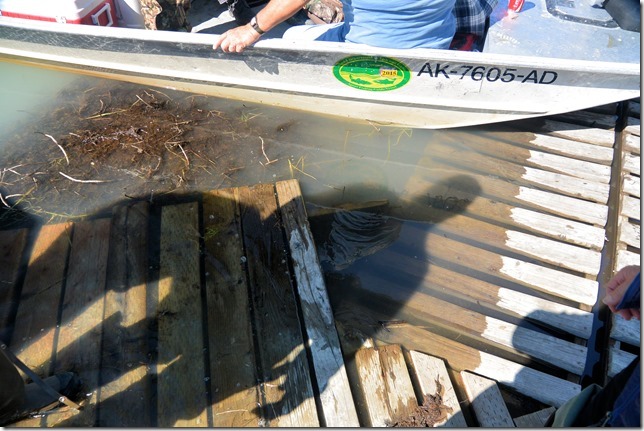 While we stood with our ankles in the water, waiting for gear to be unloaded and boats to be prepped, other parties continued to land and dock. This landing is a major debarkation point for fanning out into the waterways, deep enough and wide enough for the floatplanes, but still close to the action. The scenery was great, so we just hung out for a few minutes and enjoyed ourselves.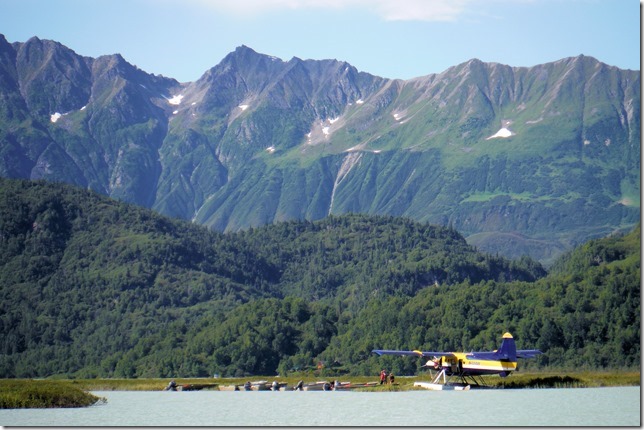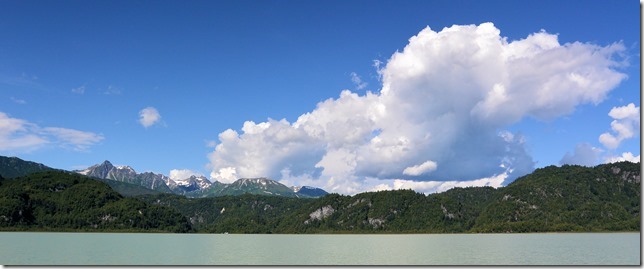 Our guide was concerned that we not end up in a super-crowded area, jammed up with other fishermen – "combat fishing" is the slang for this situation. Because the Wolverine spot is so popular, we decided to try some other places first. Karin and I were most interested in seeing bears, but our companions (another couple from California) were avid fishermen, so we agreed to go look elsewhere for some salmon.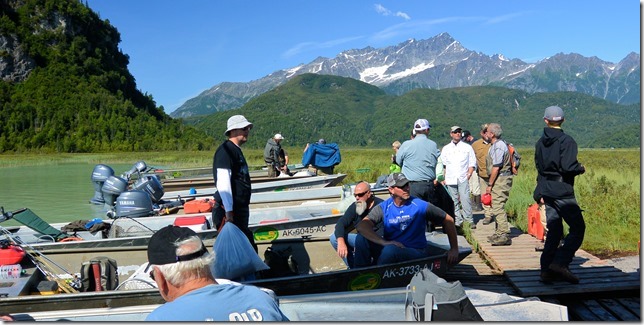 Off we went, away from the pack, so to speak. Our first spot was beautifully lonely, gorgeous wild Alaska at its best. But after most of an hour, the four of us had managed to land exactly one silver salmon. And no bears in sight. Not exactly the jumping action everybody was expecting.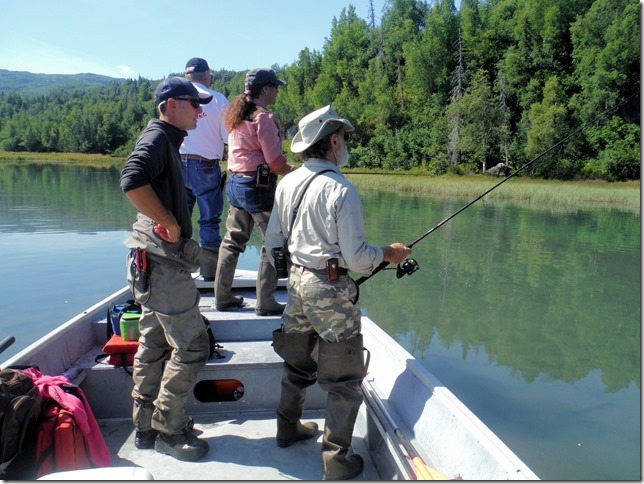 We pulled up anchor and buzzed briefly back over back toward Wolverine. A passing boat let us know that it wasn't super crowded, and people were pulling fish out. From far off, we could tell there was only one boat there.
After passing those two young bears (the ones swimming away from us) on the way into Wolverine, another bear was spotted, wandering along the bank near the only boat there. It appeared to be an older female, perhaps the mother of the two teen-agers. That bear was getting REALLY familiar with those guys, and we watched with great interest as we slowly motored up near them. They're about 25 yards apart in this shot. [We asked our guide if bears ever bothered the boats, and he grinned and said he'd had to discourage one with an oar a time or two. (We couldn't help wondering if it would happen today.) In addition to them scaring off the fish, it's also wise not to BE fishing when bears are near. The reason is that if you do hook a fish, lining it in toward the boat is an irresistible lure to the bear, and he will chase that thrashing fish right up into your boat.]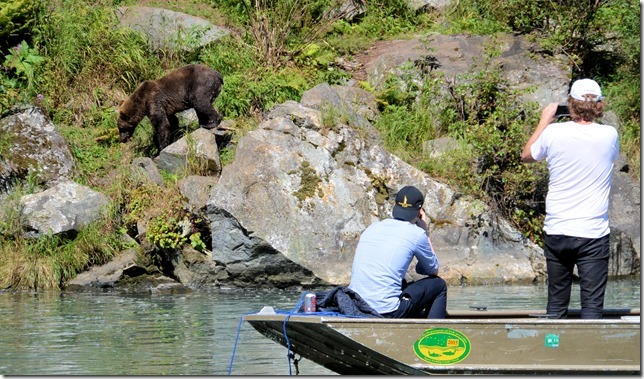 But that bear was way more interested in fish than in people. She left the bank and started swimming around the shallows, looking around, dipping her head underwater to spot salmon, and then lunging wildly to try to catch something.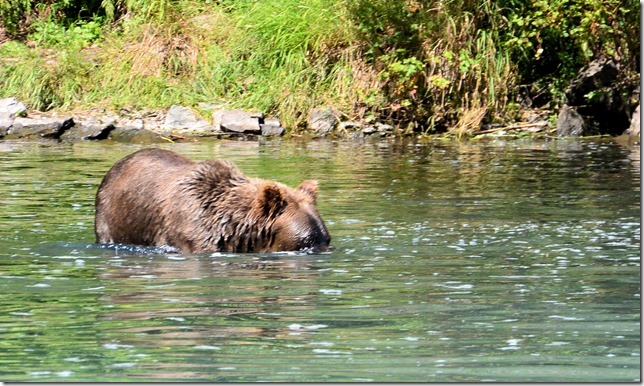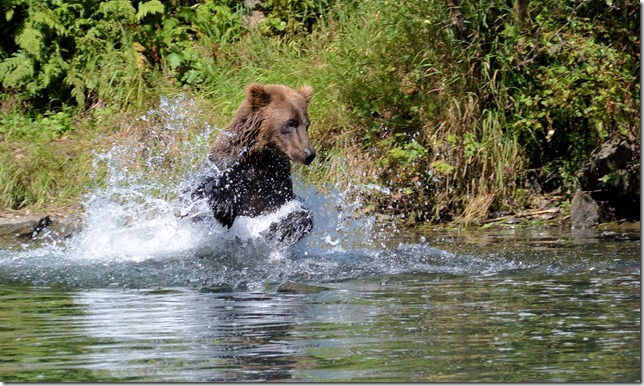 We must have watched her for 20 minutes or more. Then, as if that weren't enough of a show, the youngsters showed up (as per our guide's forecast). They didn't seem to know, or care, that they were standing knee-deep in salmon. In fact, they and their Mom had all made such a ruckus that the salmon had likely scooted over to the far side of the pool. No, what the youngsters wanted to do was play. Isn't it universal? Reminded us of the grand-kids. Tussle, play-bite, splash around, swim fast, repeat.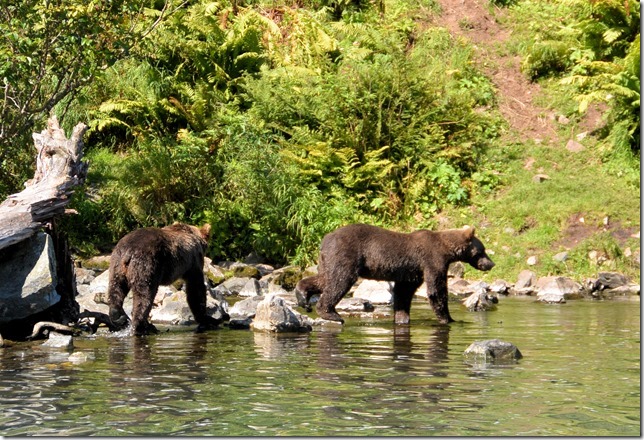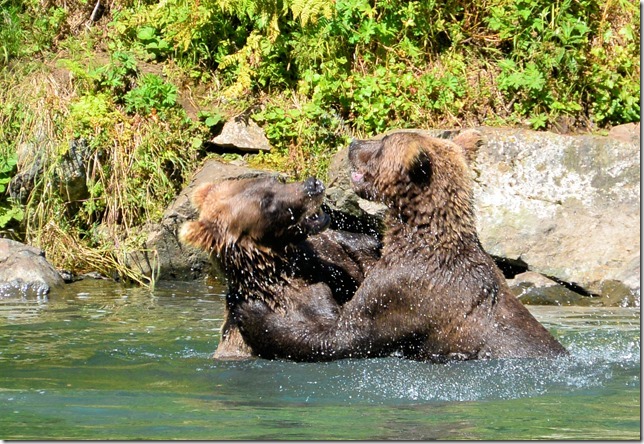 None of the bears ever scored a fish, that we saw. Eventually, the Mom swam out a ways and the youngsters joined her for some kind of casual family get-together – maybe a scolding, "You scared all the fish, you brats!". They were about 100 yards away, which by then seemed a long distance. My, how quickly our perspectives can change.
With the bears no longer in residence, the salmon returned to the pool in force. Silvers and reds were in such abundance, it looked almost like a fish farm. There were spots where you could not see the bottom for the fish in the way. Look carefully, every gray stripe is a salmon.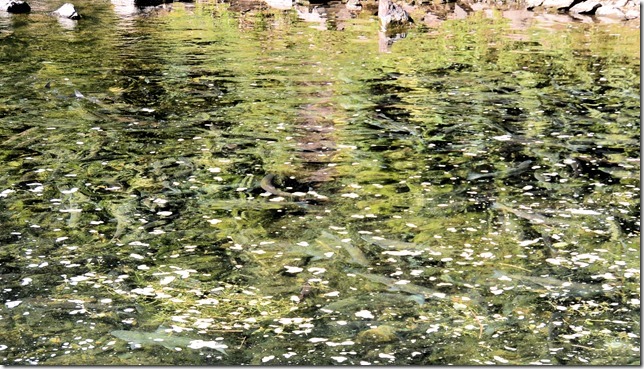 Our guide and the other couple were getting pretty excited, and even Karin and I were thinking that this could get to be quite a bit of fun.
We were right. Casting into the pool wasn't a SURE thing, but five or six casts would almost guarantee a hit. They were frisky fish, anywhere from 15-25" long and 2-4 pounds each. We were running light tackle, and everything had to be netted. Sometimes the critters would dodge all the way under the boat, and the scramble for four persons and poles to interleave with each other was hilarious. One of my fish did us the courtesy of flopping directly onto the deck without being netted. What a gentleman.
After about a half-hour, we'd all reached our limits (3 fish each but we could only hold up two for the picture). It WAS fun.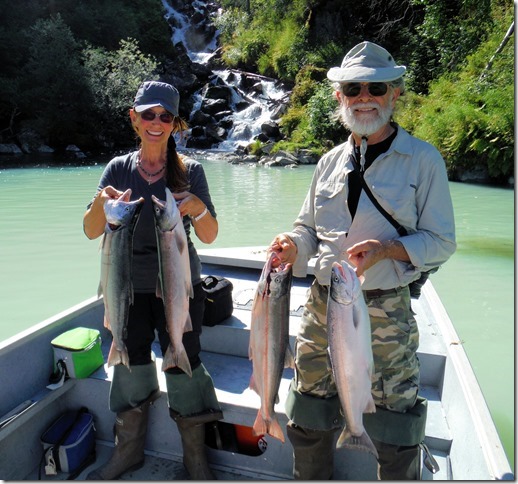 One of the many, many nice things about a guided trip is that the guide, deftly and without complaint, cleans and filets the fish like a pro (which he is). To do this, we floated over to a bog-island, a patch of dirt and grass which isn't actually anchored to the ground but for some tendrils of roots. When we stepped on it, it gave under our feet like standing on a waterbed. This is what a muskeg bog consists of. No wonder everyone uses airplanes in this part of the world. It would take a day to go a mile (maybe) in this stuff.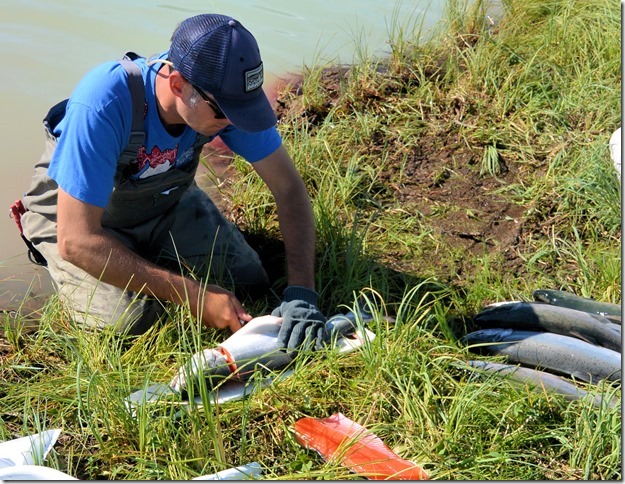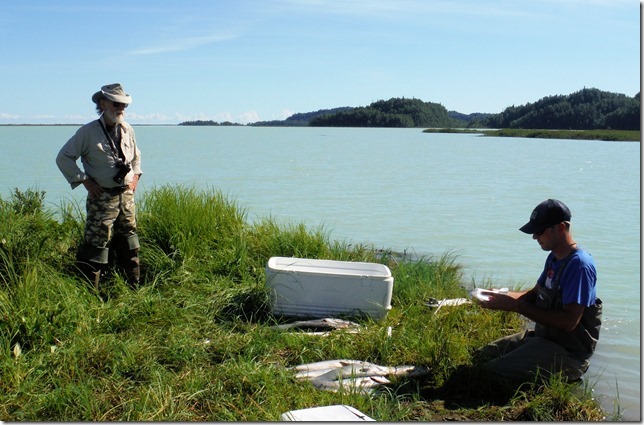 Well, it's hard to figure out how a day could get any better, but this company likes to put the frosting on the cake. The pilot took a roundabout path back home, providing us with a quickie tour of one of the largest glaciers we've seen yet in this glacier-rich land. I've forgotten it's name; it's just west of the bulge on the Kenai peninsula, situated near Mt. Redoubt, and feeds Big River. It has a companion lake, with that rich, indigo blue of such deep, clear waters.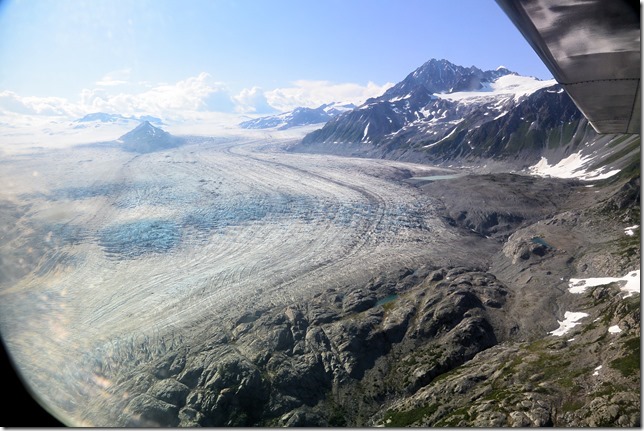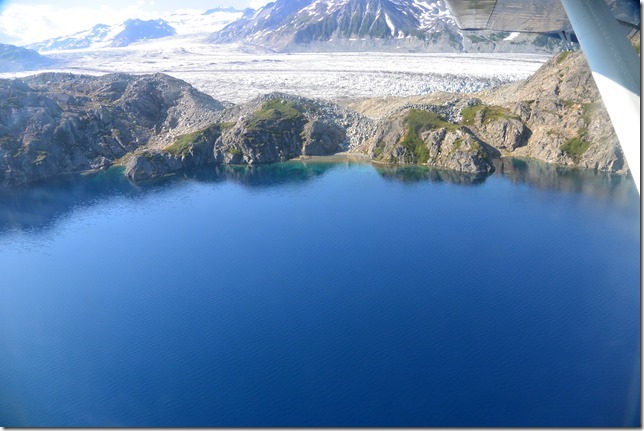 We were treated to a close-up of the deep crevasses that populate these monsters. Can you imagine trying to traverse one of these nightmares?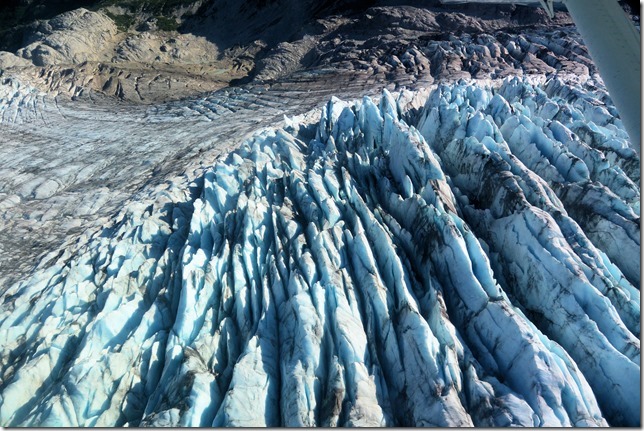 Then, a pleasant flight back across the flatland bogs and Cook Inlet, and we swung in over the home base "runway", the small lake we had taken off from. You can see our track for the day at share.delorme.com/gregilles.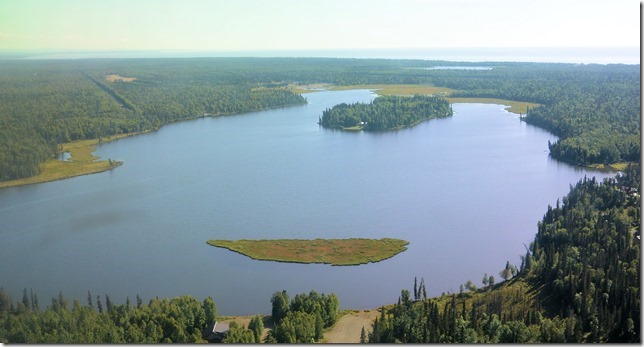 One last smooth, serene landing and we were back. What a fine day. Highly recommended.